In the word's of Florida Georgia Line "That Christmas tree ain't the only thing getting lit this year"

The holidays are a time to celebrate with friends, family and loved ones. There's a lot of joy and cheer that comes along with them, but there's also a lot of stress. The last thing you need is another thing on your "to do" list! So instead of stressing about what to serve your guests this Christmas or New Year's Eve, let us do it for you. These festive cocktails will help make your parties amazing while taking away some of the stress from hosting them!
Festive cocktails are like regular cocktails, but Christmasy!
Take any of your favorite cocktails and stick a candy cane in it. BAM! It's a festive cocktail. Just kidding. I've put some thought into either writing or finding the yummiest recipes for some warm, and some cold, tasty cocktails. I'm positive you're going to make some of these recipes a holiday tradition!

Cranberry Mimosas
Cranberry mimosas are a festive cocktail that will light you up. They're made by mixing orange juice with sparkling wine, and serve as the perfect addition to any holiday party. Simply add orange juice and cranberry juice to sparkling wine. That's it! You now have some delicious cranberry mimosas to enjoy on your own or share with friends at your next gathering. To see exactly how to make this cocktail and where to get everything you'll need, head on over to my dedicated post 3 Ingredient Christmas Morning Mimosas!
1 bottle (750 mL) sparkling wine
1 ¼ cups (296mL) orange juice fresh-squeezed
¼ cup (59mL) cranberry juice 100-percent pure
fresh cranberries to garnish
Serves 4 to 6 people.

Cranberry and Pomegranate Gin Fizz
A Cranberry and Pomegranate Gin Fizz is a sweet, tart and festive twist on the classic gin fizz. The best part? It only has 4 ingredients!
Mix gin, cranberry juice, and pomegranate juice in a shaker with ice and shake vigorously 10-12 times then pour over ice in a lowball glass and top off with club soda.
Ingredients:
1 ounce pomegranate juice (can be found in the juice aisle of most grocery stores)
1 ounces cranberry cocktail (can be found in the fruit/juice aisle of most grocery stores)
2 ounces gin (such as Hendrick's, Bombay Sapphire or something else you enjoy)
Club Soda
Iced Cinnamon Whisky Chai
I'm so stocked to try this one. This recipe is from Veganyakattack Find directions here:
12 ounces premade, store-bought Chai Mix
4 ounces Spiced whiskey
1/2 teaspoon maple syrup
1/2 tablespoon (5 g) sugar
1/4 teaspoon ground cinnamon
Dash of ground nutmeg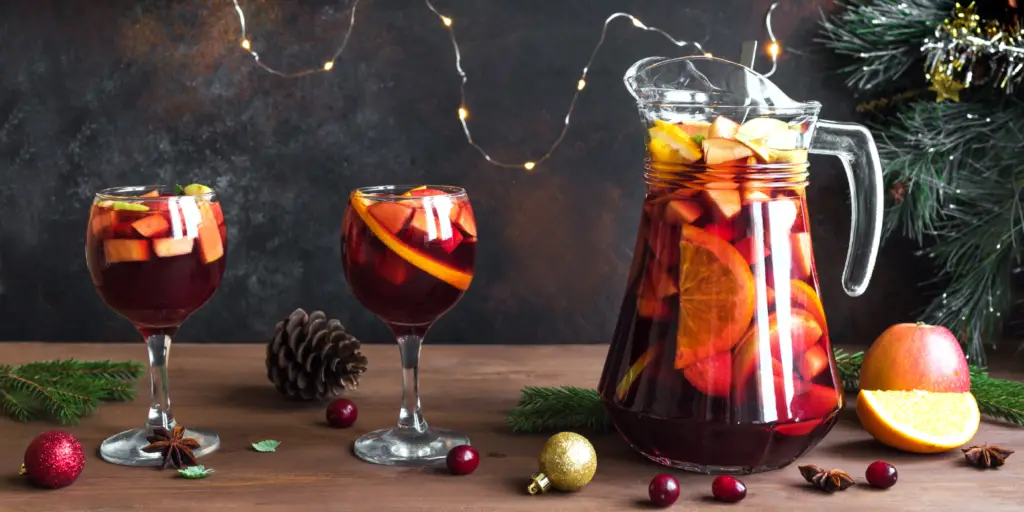 Holiday Sangria
Holiday Sangria is delicious even to those who don't usually enjoy wine.
1 lime (thinly sliced)
1 Sliced Apple
1 cup cranberries
¼ cup pomegranate seeds
¼ cup Vodka
1 bottle (750ml) white wine
1 bottle sparkling white wine
Ice
Optional: Rosemary sprigs and cranberries
Gingerbread Martinis
This recipe is from Eat Drink Love! Find directions on how to make this here: https://eat-drink-love.com/gingerbread-martini/
To make gingerbread syrup, simmer 1/2 cup of water, then add 1/2 cup of brown sugar, 4 tbsp of molasses, 1 tsp of ginger, and 1/2 tsp of cinnamon.
2 ounces vodka of choice
1.5 ounces chocolate liquor (Such as Kahlua)
1.5 ounces Irish Cream of choice
3 tablespoons gingerbread syrup (or to taste)
2.5 ounces half and half (plus about 2 tbs. for the rim)
gingerbread cookies (for the rim and for garnish)(make your own with this recipe!)
whipped cream (for garnish)
Caramel Apple Hot Toddy
To make this delicious drink, you'll need:
14 oz Apple Cider
14 oz Apple Brandy
6 tablespoons Caramel Flavoring Syrup
Whipped Cream (optional)
Caramel Sauce for drizzling (optional)
This delicious recipe is from https://lingeralittle.com/caramel-apple-hot-toddy/ click the link for directions!
Amaretto Eggnog
If you've never heard of eggnog before, it's a creamy, boozy drink that's traditionally made with eggs and milk. It can be served hot or cold and is usually topped with nutmeg and cinnamon. As far as cocktails go, this one is pretty simple: just add Amaretto, RumChata, and spiced rum to your favorite eggnog recipe! The almond flavor paired with the traditional ingredients in eggnog makes for a delicious treat on any chilly night.
½ cup Spiced Rum
1 cup Amaretto
½ cup RumChata
6 Cups Eggnog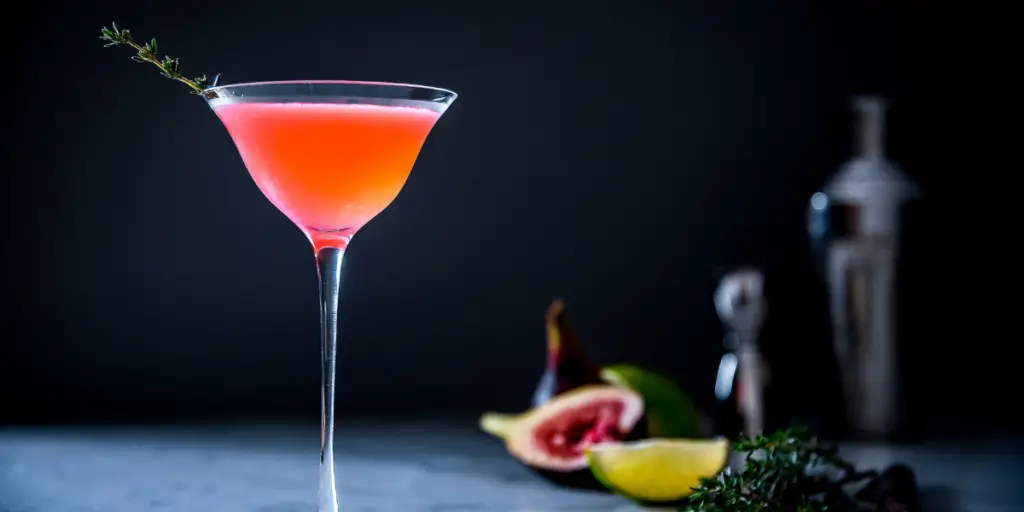 Spiced Fig Bourbon Sour
2 oz Bourbon
1 oz Lemon Juice
3/4 oz Spiced Fig Syrup
2 dashes aromatic bitters
Garnish: Fig & Thyme (lemon optional)
In a shaker tin with ice, add all ingredients and shake well. Strain into high ball glass (or glass of choice) with ice and garnish with a slice of fig, lemon wedge, and a sprig of thyme.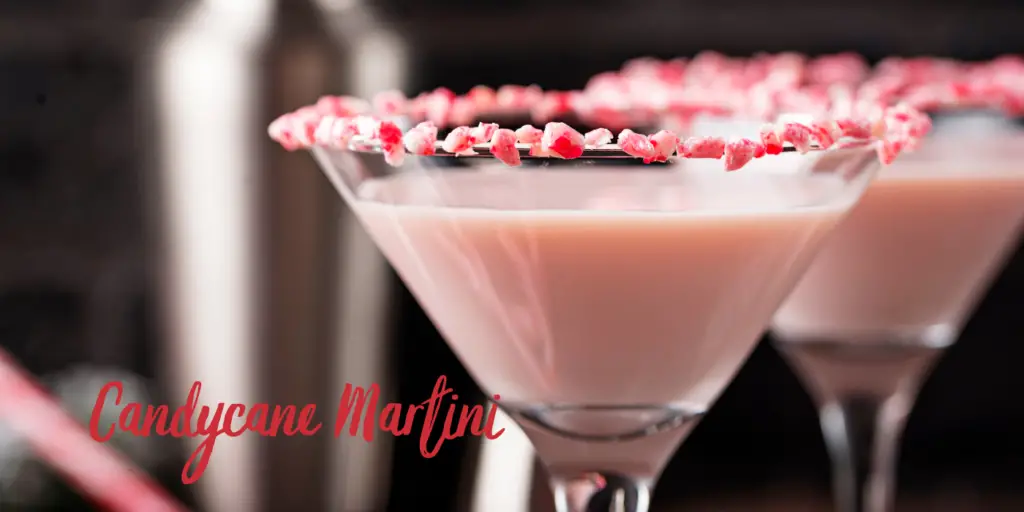 Candy Cane Martini
Candy canes are everywhere this time of year. You can probably grab one right off the tree! For this recipe you'll need a classic martini glass and a shaker cup.
5 oz vanilla vodka
2 oz creme de menthe (use white)
1/2 oz peppermint schnapps
1 crushed candy cane for rim
Christmas Punch Recipe
A punch is a drink that's made up of a large amount of liquor, juice and other ingredients. It's often served in a large bowl and meant to be served in small glasses by the glassful to guests at parties. It's a great party drink because it can be made in advance and stored in the fridge until it's time to serve. You can also add ice cubes as you're serving if you want it colder or leave out some ingredients for each guest's taste preference if something too strong has been added (like whiskey).
Try this jingle juice recipe from The Busy Baker, for full instructions follow this link:
https://thebusybaker.ca/best-ever-christmas-punch/
1 cup apple juice
3 cinnamon sticks
a few whole cloves
2 star anise
4 cups cranberry juice
1 cup pineapple juice
1 cup orange juice
2-3 cups champagne or try non-alcoholic ginger beer for a spicier version)
orange slices, cinnamon sticks, cranberries, pomegranate arils, and star anise for garnish
ice (optional)
Peppermint White Russian
A Peppermint White Russian is a delicious holiday cocktail that's easy to make and perfect for the season. It consists of vodka, coffee liqueur, and peppermint schnapps. You can add cream or use ice cubes if you'd like to make it more refreshing. This drink is definitely not an acquired taste!
1½ tablespoons coffee liqueur
1½ tablespoons vodka
1½ tablespoons peppermint schnapps
1 tablespoon half and half + more, to taste
To make this drink even more festive, rim the glass with corn syrup or simple syrup then dip the rim of the glass in crushed candy canes.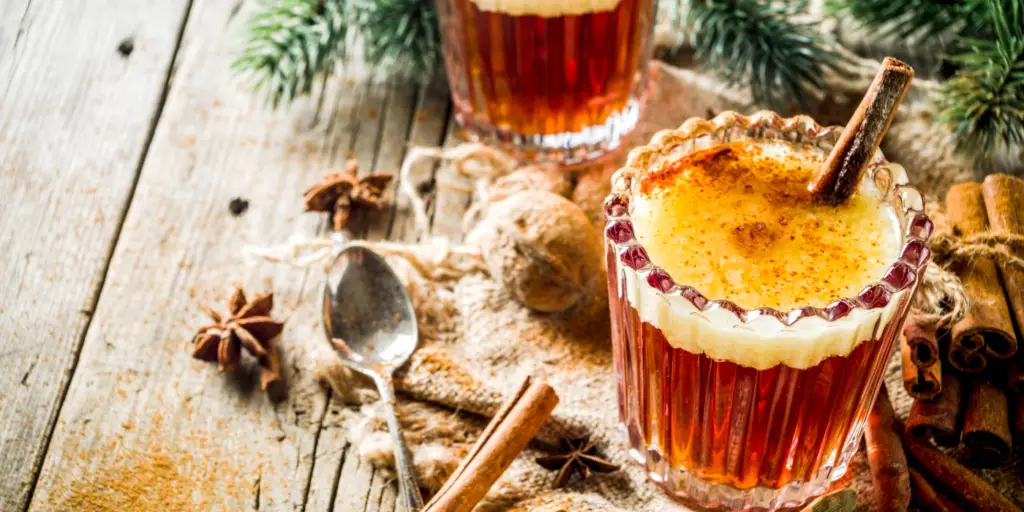 Hot Buttered Rum
Hot Buttered Rum is a holiday classic. And since it's so delicious, we thought it only made sense to include it on this list. Try this recipe from celebratngsweets.com
Make hot buttered rum by heating the butter in a saucepan over low heat until warm, then stirring in brown sugar and spices. Add 2 Cups of hot water and rum. Whisk thoroughly until everything is nicely combined.
For an even more festive drink, add cinnamon sticks or star anise before heating up the mixture. Once you've added your spice(s), continue warming the mixture until melted and smooth. Then remove from heat and let cool slightly before adding vanilla extract or apple cider vinegar—or both! The sweet and sour taste adds a nice balance against all that buttery goodness.
If you want to make this drink sweeter still, try adding maple syrup instead of vanilla extract/apple cider vinegar at the end of preparation (just make sure not to cook your alcohol). You could also use honey as well; just be aware that cooked sugar will burn very quickly if left untouched on high heat for too long!
Jack Frost Cocktail
This recipe is so festive and fun. Add crushed ice, pineapple juice, blue curacao, rum, and cream of coconut to your blender and mix into a nice slush. Rim your glass with corn syrup (so the coconut flakes stick) roll in coconut flakes and viola!
Try this recipe from Bellyfull:
Light corn syrup , for rimming glasses
1/3 cup sweetened coconut flakes , for rimming glasses
3-4 cups crushed ice
1 cup pineapple juice
1/2 cup Blue Curacao liquor
1/2 cup light rum
1/2 cup cream of coconut (not coconut milk)
Boozy White Hot Chocolate
To make Boozy White Hot Chocolate, you'll need:
2 cups of milk
1/2 cup white chocolate chips
1 inch of a Madagascar Vanilla Bean (or vanilla extract, just not artificial)
1 cup (8 oz.) Irish Cream of choice
1/2 cup heaving whipping cream
1 tablespoon agave nectar
Marshmallows
These holiday cocktails are a fun way to try something different this year.
One of the best ways to take the edge off the stress of the holidays is to relax with a nice cocktail in hand. These holiday cocktails are a fun way to try something different this year, and I promise they won't disappoint!
Happy Holidays!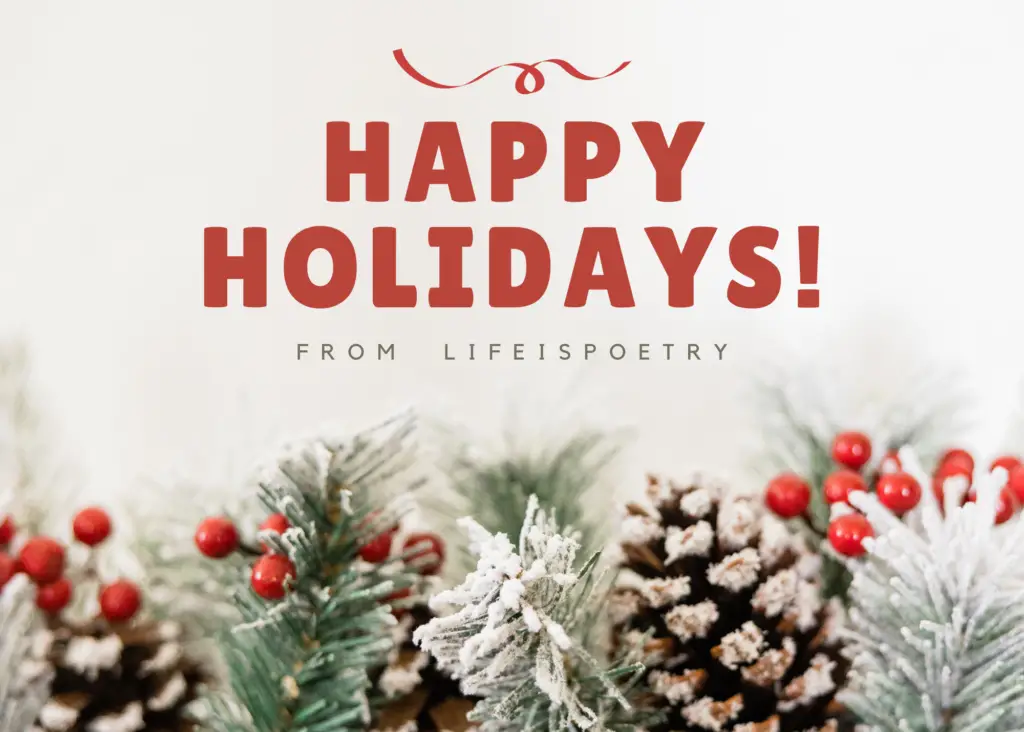 I hope you enjoyed these recipes
The next time you throw a holiday party, be sure to take advantage of these recipes. You'll have the guests talking, and they'll come back for more!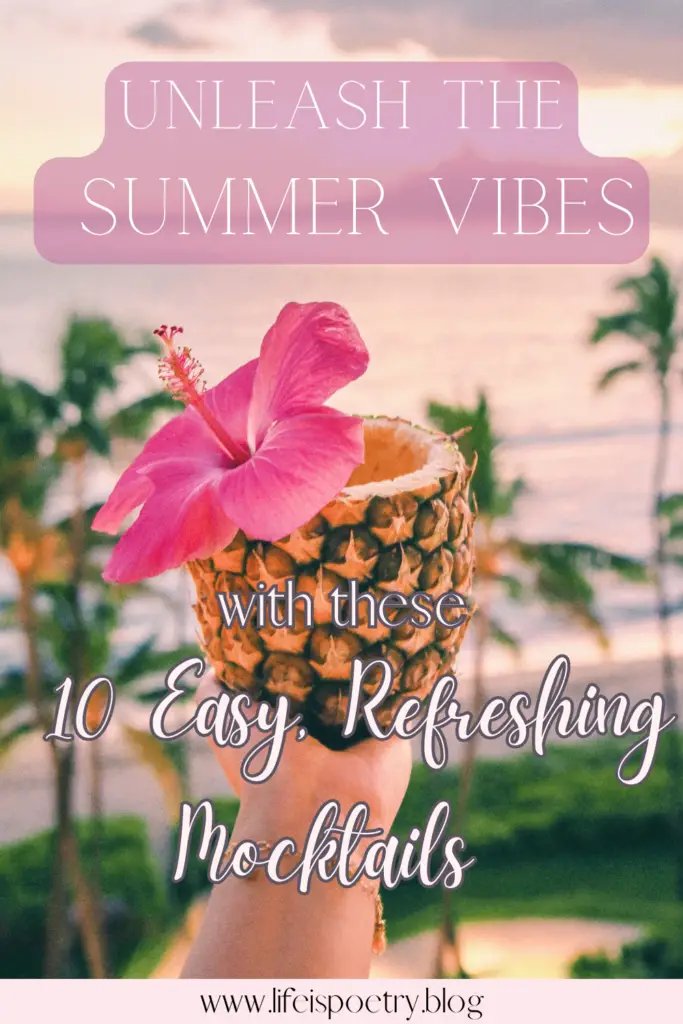 These mocktails offer the best of both worlds—refreshing and delicious concoctions that allow me to…