Unleash the Summer Vibes with these Easy, Refreshing Mocktails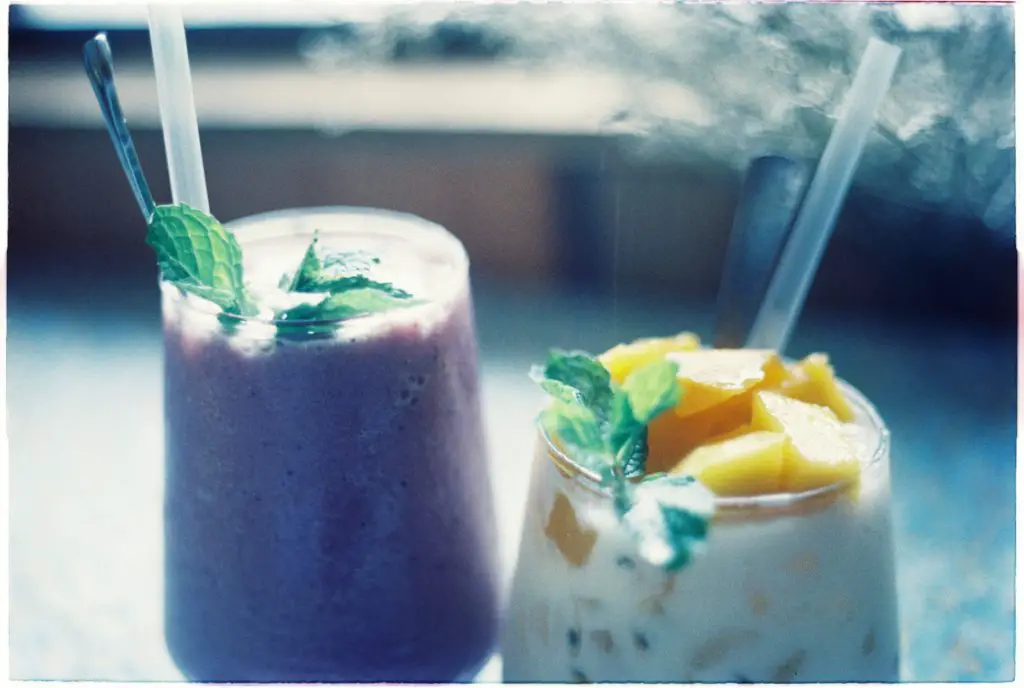 As the quote by CrimethInc reminds us, "We want ecstasy as a way of life, not a liver-poisoning alcoholiday from it." And as a mother of two small kids, I need to keep my wits about me during the summer while still enjoying fun and flavorful drinks. These mocktails offer the best of both worlds—refreshing and delicious concoctions that allow me to embrace the joy of the season without compromising my responsibilities. They are crafted with love and care, using fresh ingredients that not only satisfy my taste buds but also nourish my body.
This collection presents 10 of my favorite mocktail recipes from around the web, each one capturing the essence of summer and offering a refreshing alternative to traditional alcoholic beverages. So put on your favorite summer playlist, grab some ice, and let's make some fun summer drinks, minus the liquor!
Essential Tools and Ingredients for Creating Mocktail Magic:
Just like a painter needs a brush and canvas, a mocktail artist needs the perfect tools to bring their creations to life. And in my experience, when you have everything you need within arm's reach, crafting mocktails becomes a breeze of joy and creativity. So, let's dive into the tools and ingredients that will take your mocktail game to new heights.
Essential Tools for Mocktail Mastery
Shaker: A must-have tool for mixing your mocktail ingredients with precision and flair.
Muddler: This trusty tool will help release the vibrant flavors of fresh fruits, herbs, and spices, creating a burst of taste in every sip.
fresh herbs
Jigger: An essential for precise measurements, ensuring the perfect balance of flavors in your mocktails.
Bar spoon: A versatile tool for stirring, layering, and garnishing your mocktails.
Strainer: A strainer ensures a smooth and refined drinking experience.
flavored syrups, for a healthier alternative make your own syrups
Must-Have Ingredients
Fresh Fruit: From citrus fruits to berries, fresh fruit adds a burst of flavor and a vibrant touch to your mocktails.
Simple Syrup: A classic sweetener that effortlessly enhances the taste of your mocktails.
Soda Water: The effervescent star that adds a refreshing sparkle to your mocktails.
Herbs and Spices: Elevate your mocktails with aromatic herbs like mint, basil, or rosemary, and experiment with spices like cinnamon or ginger for a tantalizing twist.
Fresh Juices: From zesty lemons to tangy limes, citrus juices bring a bright and tangy dimension to your mocktails.
The Best Mocktail Recipes from Around the Web
Note: The following mocktail recipes have been carefully selected from renowned mixologists and cocktail connoisseurs. Each recipe promises a unique twist on classic flavors, ensuring an unforgettable mocktail experience. Prepare to be dazzled!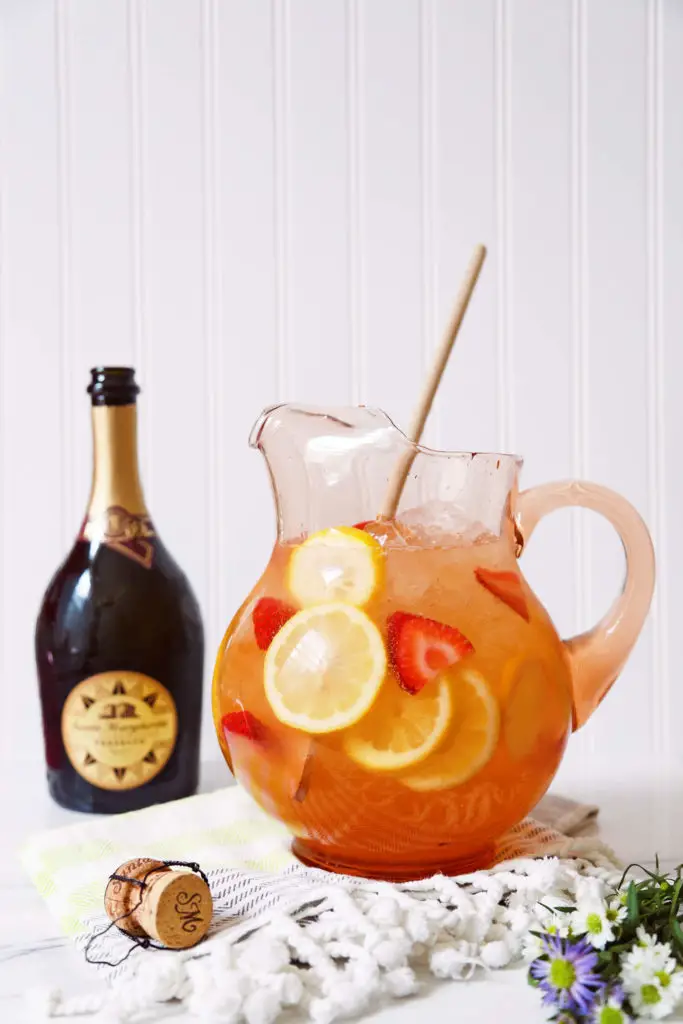 Created by the talented Natalie Jacobs at arsenic-lace.com, this sangria is a perfect blend of fruity goodness and effervescence. Bursting with the essence of the sun-kissed season, it's the epitome of summer in a glass.
This recipe includes wine and liqueur, but can easily be transformed into a mocktail. Simply swap the wine for a delectable alcohol-free alternative and replace the elderflower liquor with a tantalizing elderflower syrup. And if you're not sure where to find elderflower syrup, make some at home with this recipe! Or grab it online with this link.
Say goodbye to ordinary lemonades and hello to a refreshing twist that will take your senses to new heights with with this Mint and Rosemary Lemonade with a hint of Vanilla, a recipe crafted by Aysegul Sanford at foolproofliving.com.
The Rosemary Grapefruit Refresher
The Grapefruit Refresher from happilyeveafter.com. This invigorating concoction boasts a perfect balance of tangy grapefruit and a hint of sweetness, guaranteed to quench your thirst on those scorching summer days. Although this recipe calls for 2-3 ounces of alcohol, with a simple omission, it effortlessly transforms into a delightful mocktail!
Fruity Green Tea Spritzer
The Fruity Green Tea Spritzer from thenutritionaladventure.com. is a vibrant creation combines the goodness of green tea with a burst of fruity flavors, resulting in a refreshing sip that will keep you cool all summer long.

Discover the vibrant joy of summer with Sparkling Rainbow Mocktails from nutritiontofit.com. These six fantastic drinks are alcohol-free, contain zero added sweetener, and are packed with the natural goodness of fruits and vegetables.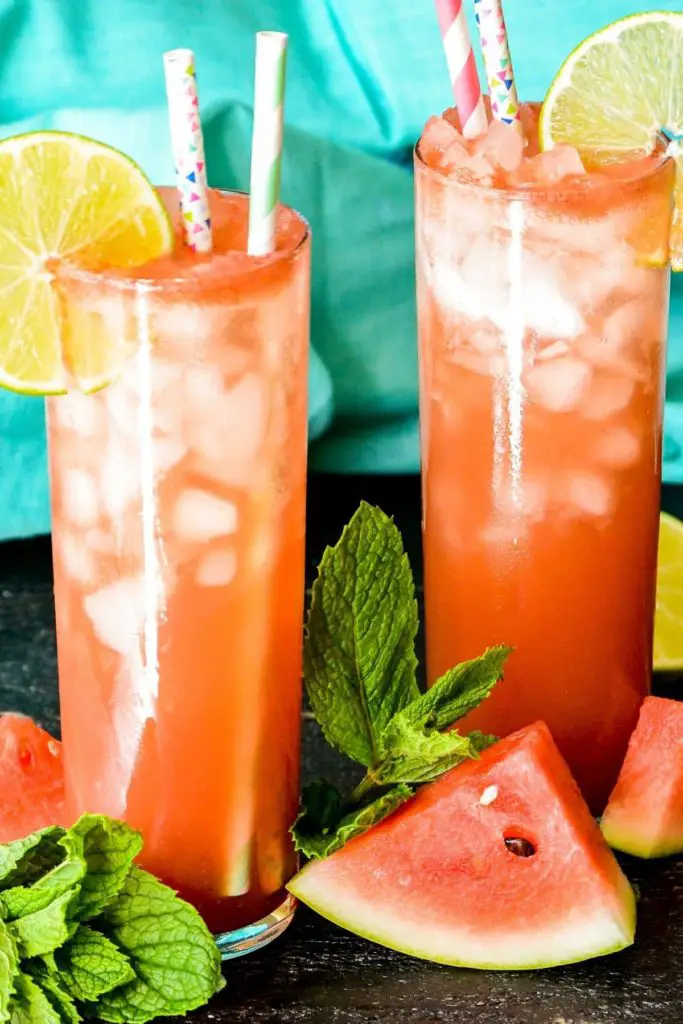 This delightful summer drink Amy Katz at veggiessavetheday.com is a breeze to make in your blender, requiring just four simple ingredients. The best part? There's no added sugar, allowing the natural sweetness of juicy watermelon to shine.
Kombucha Mule (Cocktail or Mocktail)
Discover the Kombucha Mule Mocktail, by Kaleigh McMordie at livelytable.com. It's a gut-healthy twist on the classic Moscow Mule. This non-alcoholic delight combines the tangy flavors of kombucha with a refreshing ginger kick.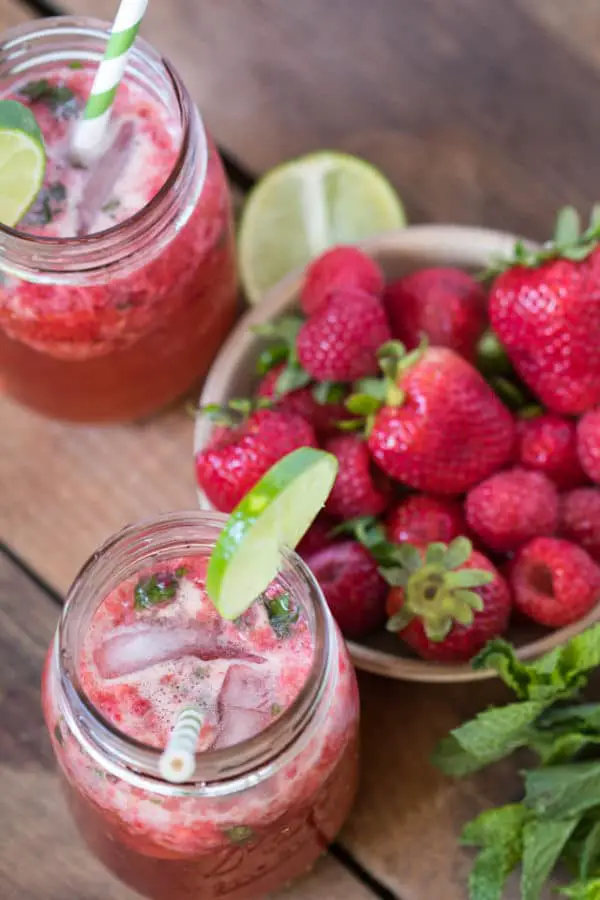 This alcohol-free concoction, crafted by Tawnie at krollskorner.com, combines the sweetness of strawberries with the invigorating flavors of mint and lime. Sip on this vibrant drink and enjoy the refreshing goodness while giving your gut a probiotic boost.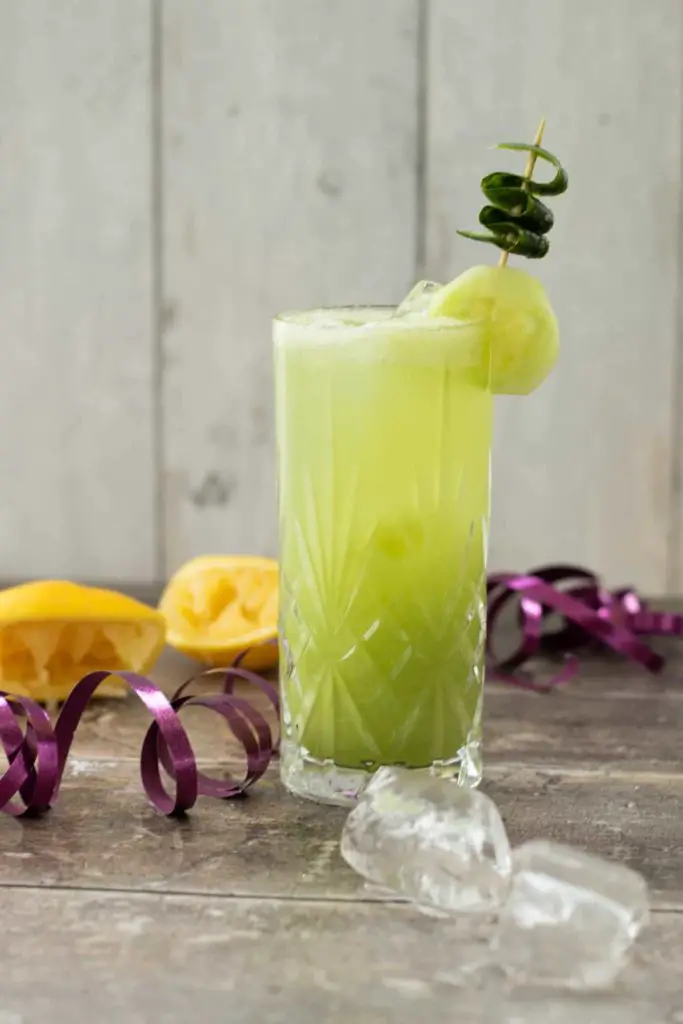 With just three simple ingredients – cucumber, lemon, and soda water – this mocktail by Emmeline Kemperyd at alwaysusebutter.com is a breeze to make. The coolness of the cucumber blends perfectly with the zesty tang of lemon, creating a revitalizing beverage that will quench your thirst on hot summer days.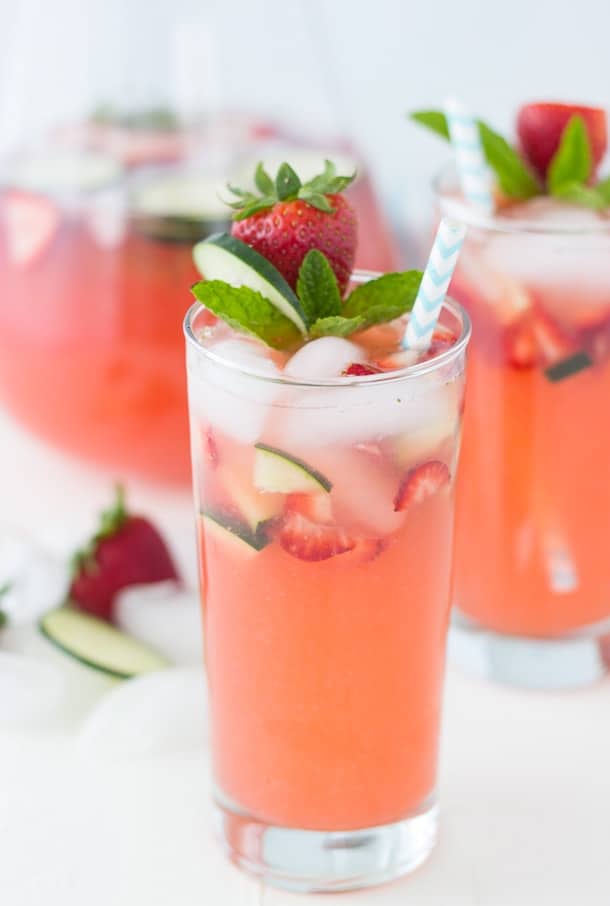 The delightful Strawberry Cucumber Limeade by Zainab Mansaray at aclassictwist.com is a perfect blend of juicy strawberries, crisp cucumbers, and tangy lime. Whether you're hosting a backyard gathering or simply enjoying a sunny afternoon, this tasty limeade is a must-make.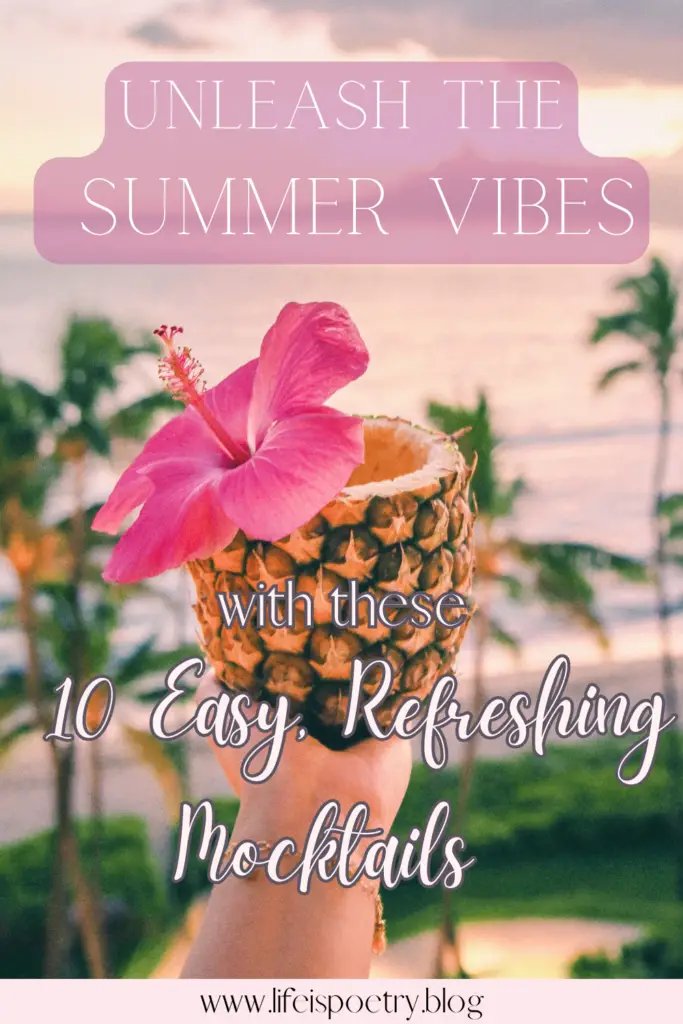 Don't be afraid to unleash your creativity and let your imagination run wild when it comes to presenting these refreshing beverages. Experiment with different garnishes, glassware, and even mocktail names that reflect your unique style. Embrace the joy of crafting something beautiful and delicious that will bring smiles to the faces of your loved ones.
Thank you for joining me, and I hope these mocktails bring an extra touch of magic to your summer gatherings. Before we part ways, I want to share a beautiful poem by Cristen Writes that perfectly captures the excitement I feel for the sun-kissed days ahead.