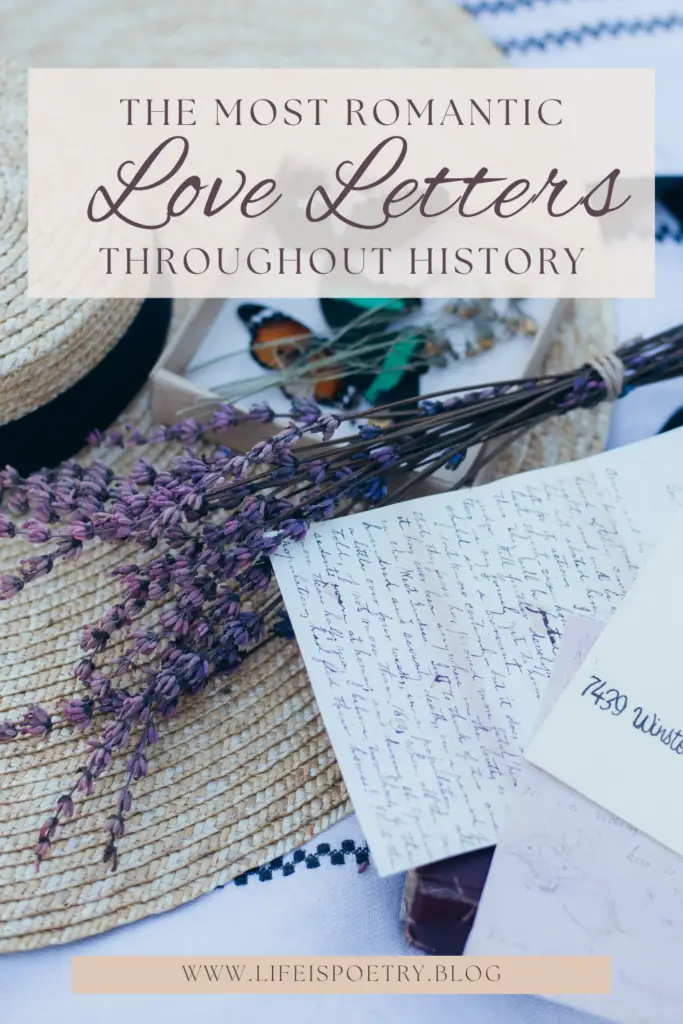 Ever since I was a little girl, my heart has been captivated by the romantic notion of love letters. I remember dreaming of receiving one myself; feeling the warmth and excitement of reading it over and over again. It's funny how some things stay with us from childhood.
Are you someone who doesn't quite get the appeal of love letters? Maybe they make you feel a little queasy even? Let me tell you what I love so much about love letters:
They give us a peek into the most intimate parts of someone's heart and soul. They showcase emotions and feelings so strong, some people may go their entire lives without having the privilege of feeling. It's incredible how these letters capture the essence of love and desire in such a raw and beautiful way, making them truly literary treasures.
I'm excited to share with you some of my all-time favorite love letters throughout history, including both fictional and non-fictional works. I hope you'll join me in reading and appreciating these timeless treasures as much as I do!
Richard burton to Elizabeth Taylor
"It seems to me, to myself, that no man was ever before to any woman what you are to me — the fullness must be in proportion, you know, to the vacancy…and only I know what was behind — the long wilderness without the blossoming rose…and the capacity for happiness, like a black gaping hole, before this silver flooding. Is it wonderful that I should stand as in a dream, and disbelieve–not you–but my own fate? Was ever any one taken suddenly from a lampless dungeon and placed upon the pinnacle of a mountain, without the head turning round and the heart turning faint, as mine do? And you love me more, you say? …. How shall I ever prove what my heart is to you? How will you ever see it as I feel it?"
Frederick Wentworth to Anne Elliot (from Persuasion)
"How did I love before I knew you — before I possessed your affection! I reckon upon your love as something that is to endure when everything that can perish has perished — though my trust is sometimes mingled with fear, because I feel myself unworthy of your love. But if I am worthy of it you will always love me; and if there be anything good and pure in me, it will be proved by my always loving you."
John Keats to Fanny Brawne
"My love has made me selfish. I cannot exist without you — I am forgetful of every thing but seeing you again — my Life seems to stop there — I see no further. You have absorb'd me. I have a sensation at the present moment as though I was dissolving — I should be exquisitely miserable without the hope of soon seeing you. I should be afraid to separate myself far from you….I would be martyr'd for my Religion — Love is my religion — I could die for that – I could die for you. My Creed is Love and you are it's only tenet — You have ravish'd me away by a Power I cannot resist."
Beethoven's "Immortal Beloved"
This letter was discovered after his death in 1827.It was addressed to an unknown woman, whom Beethoven referred to as his "Immortal Beloved." It is not entirely clear who the letter was written to, but it is widely believed to have been intended for Antonie Brentano, a married woman with whom Beethoven had a close and passionate relationship.
"My angel, my very self… Why this profound sorrow, when necessity speaks — can our love endure without sacrifices, without our demanding everything from one another; can you alter the fact that you are not wholly mine, that I am not wholly yours? — Dear God, look at Nature in all her beauty and set your heart at rest about what must be — Love demands all, and rightly so… No doubt we shall meet soon; and today also time fails me to tell you of the thoughts which during these last few days I have been revolving about my life — If our hearts were always closely united, I would certainly entertain no such thoughts. My heart overflows with a longing to tell you so many things — Oh — there are moments when I find that speech is quite inadequate — Be cheerful — and be for ever my faithful, my only sweetheart, my all, as I am yours. The gods must send us everything else, whatever must and shall be our fate — your faithful Ludwig"
Franz Kafka's Letters to Milena
There are so many beautiful love letters written by Kafka that it's impossible to choose just one. Here are a few of my favorite quotes from the book Letters To Milena.
"Somehow I can't write about anything but what concerns us and us alone, in the middle of the crowded world. Everything else is foreign to me. Wrong! Wrong! But my lips are babbling and my face is lying in your lap."

"And when you go to bed tonight, as a good night wish from me, take in – all in one stream – everything I am and have: all of which is blissfully happy to rest in you."

"It's simply a weakness, a mood of the heart, which knows exactly why it's beating nevertheless. Giants have their weaknesses as well; I believe even Hercules fainted once. With my teeth clenched, however, and with your eyes before me I can endure anything: distance, anxiety, worry, letterlessness."

"With you in my heart I can bear everything, and even if I did write that the days without letters were horrifying, it's not true; they were just horribly difficult-the boat was heavy and it's draught was horribly deep, but on your tide it floated nonetheless."

"Last night I dreamed about you. What happened in detail I can hardly remember, all I know is that we kept merging into one another. I was you, you were me. Finally you somehow caught fire."
Johnny Cash to June Carter
"Happy Birthday Princess, we get old and get used to each other. We think alike. We read each other's minds. We know what the other wants without asking. Sometimes we irritate each a little bit. Maybe sometimes take each other for granted. But once in awhile, like today, I meditate on it and realise how lucky I am to share my life with the greatest woman I ever met. You still fascinate and inspire me. You influence me for the better. You're the object of my desire, the #1 Earthly reason for me existence. I love you very much."
Napoleon Bonaparte's love letter to Joséphine de Beauharnais
"Since I left you, I have been constantly depressed. My happiness is to be near you. Incessantly I live over in my memory your caresses, your tears, your affectionate solicitude. The charms of the incomparable Joséphine kindle continually a burning and a glowing flame in my heart. When, free from all solicitude, all harassing care, shall I be able to pass all my time with you, having only to love you, and to think only of the happiness of so saying, and of proving it to you?"
Frida Kahlo to Diego Rivera
"Nothing compares to your hands, nothing like the green-gold of your eyes. My body is filled with you for days and days. You are the mirror of the night. The violent flash of lightning. The dampness of the earth. The hollow of your armpits is my shelter. My fingers touch your blood. All my joy is to feel life spring from your flower-fountain that mine keeps to feel all the paths of my nerves which are yours."
Oscar Wilde to Lord Alfred Douglas
"Everyone is furious with me for going back to you, but they don't understand us. I feel that it is only with you that I can do anything at all. Do remake my ruined life for me, and then our friendship and love will have a different meaning to the world. I wish that when we met at Rouen we had not parted at all. There are such wide abysses now of space and land between us. But we love each other."
King Henry VIII to Anne Boleyn
King Henry's letter's were pretty lengthy, so for this one a included and excerpt. You can find the letters whole here.
MY MISTRESS & FRIEND,
my heart and I surrender our-
selves into your hands, beseeching
you to hold us commended to your
favour, and that by absence your af-
feftion to us may not be lessened:
for it were a great pity to increase
our pain, of which absence produces
enough and more than I could ever
have thought could be felt, remind-
ing us of a point in astronomy which
is this: the longer the days are, the
more distant is the sun, and never-
theless the hotter; so is it with our
love, for by absence we are kept a
distance from one another, and yet
it retains its fervour, at least on my
side; I hope the like on yours, as-
suring you that on my part the pain
of absence is already too great for
me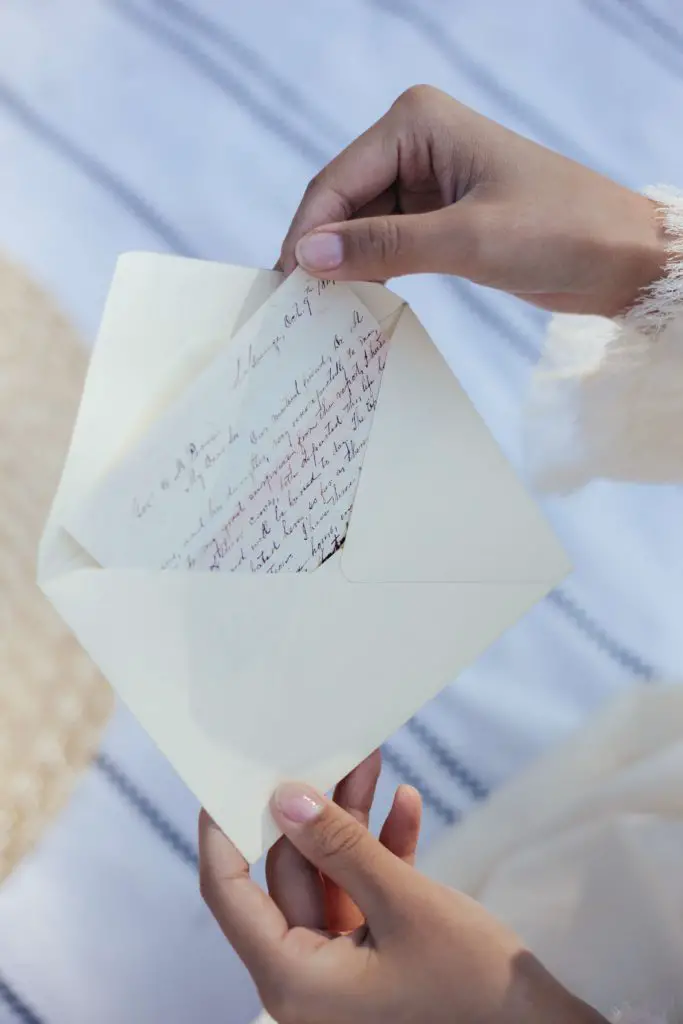 Thank you for taking the time to read this article about historic love letters, I hope it's left you feeling inspired and full of love. And if you have any comments or feedback about the article, I would love to hear from you!