Wanderlust Guide: Whimsical Cottagecore Escapes Around the World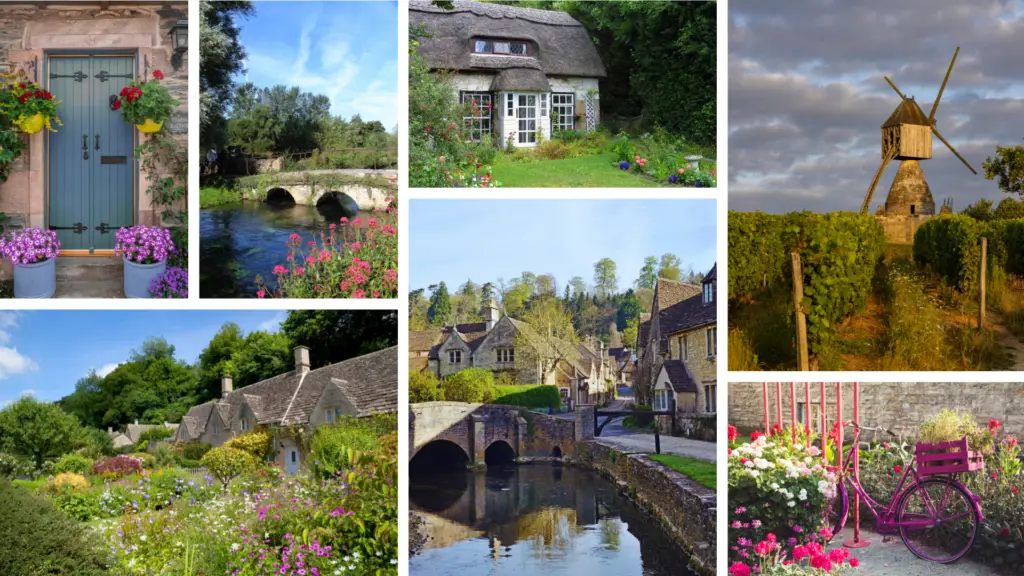 Today, I'm about to whisk you away on a journey that's straight out of a fairytale. Imagine stepping into a world where cobblestone streets wind through picturesque villages, where cozy cottages nestle beneath canopies of lush greenery, and where time seems to slow down to a leisurely, dreamy pace. Yes, we're diving headfirst into the enchanting realm of cottagecore.
If you've ever daydreamed about escaping the hustle and bustle of modern life, if you've yearned for the simplicity of bygone eras, and if you've secretly longed for a slice of the countryside's rustic charm, then you're in for a treat. In this blog post, we're embarking on a virtual adventure to discover some of the world's most whimsical and cottagecore-inspired destinations.
Our journey will take us across continents, from the rolling hills of Europe to the serene shores of North America, as we seek out idyllic villages and hidden gems that embody the cottagecore lifestyle. Along the way, we'll uncover the magic of France's storybook villages, wander through Germany's fairytale towns, embrace the Scandinavian cottagecore charm of Denmark, and revel in the rustic beauty of the United Kingdom.
France: A Journey to Storybook Villages
Bayeux, Calvados
Nestled in the heart of the Normandy region in France, the medieval town of Bayeux effortlessly embodies the essence of cottagecore. From the moment you set foot in this charming town, you'll feel like you've stepped into the pages of a storybook. Let's explore what makes Bayeux a dreamy cottagecore destination.
Timeless Architecture: Bayeux is famous for its well-preserved medieval architecture. Wandering through its cobblestone streets, you'll encounter half-timbered houses with flowers cascading from window boxes. The town's centerpiece is the magnificent Bayeux Cathedral, a masterpiece of Gothic architecture that will transport you back in time.
Quaint Cafés and Bakeries: Imagine sipping your morning coffee at a cozy café on a cobblestone street, surrounded by locals going about their day. In Bayeux, this isn't just a dream—it's your reality. Indulge in freshly baked croissants and pastries at local bakeries, and savor the flavors of Normandy.
Lush Greenery: The countryside surrounding Bayeux is a lush, green wonderland. Fields stretch as far as the eye can see, dotted with apple orchards and grazing cows. The gentle landscape beckons you to explore on foot or by bicycle, taking leisurely strolls along hedgerow-lined lanes.
Saint-Denis-d'Anjou, Pays de la Loire
When it comes to experiencing the magic of cottagecore, Saint-Denis-d'Anjou in the Pays de la Loire region of France is a hidden gem waiting to be discovered. This idyllic village captures the very essence of the cottagecore lifestyle in the most enchanting way possible. Here's what makes Saint-Denis-d'Anjou a perfect cottagecore gettaway:
Storybook Scenery: Picture-perfect doesn't even begin to describe the charming scenery of Saint-Denis-d'Anjou. The village is a postcard come to life, with its rustic cottages adorned with climbing roses and ivy. The cobblestone streets wind their way through this quaint haven, inviting you to explore every nook and cranny.
Gardens of Delight: Gardens in Saint-Denis-d'Anjou are like something out of a fairytale. Stroll through lush, meticulously maintained gardens bursting with colorful blooms. Relax on a bench surrounded by fragrant roses, and let the serenity of the natural world envelop you.
Local Markets: The weekly markets in Saint-Denis-d'Anjou are a treat for the senses. From fresh, locally sourced produce to artisanal cheeses and handcrafted goods, these markets epitomize the slow, deliberate pace of cottagecore living. Engage with friendly vendors, sample the region's specialties, and relish the community spirit.
Germany: Enchanted Forests and Fairytale Towns
Garmisch-Partenkirchen, Bavaria
Garmisch-Partenkirchen beckons you to step into a world where the majesty of the Alps is your constant companion, and where life unfolds at a pace that encourages appreciation of the present moment. And where the beauty of tradition and the allure of nature converge, offering an authentic and heartwarming cottagecore experience in the heart of Bavaria.
Alpine Elegance: Garmisch-Partenkirchen's architectural landscape showcases the quintessential charm of alpine cottages. Timber-framed houses adorned with vibrant window boxes and quaint balconies dot the town, creating a fairy tale-like atmosphere that feels straight out of a storybook.
Enchanted Forests: Surrounding the town are enchanting forests, where ancient trees form a majestic canopy overhead. Wander along woodland trails that lead to hidden glens, and listen to the whispering of leaves as you immerse yourself in the embrace of nature.
Alpine Meadows: Beyond the forests, you'll discover alpine meadows adorned with wildflowers. These meadows are ideal for picnics and leisurely strolls, where you can soak in the serene beauty of the landscape and breathe in the crisp, clean mountain air.
Traditional Markets: Garmisch-Partenkirchen's weekly markets are a celebration of Bavarian culture. Here, you can indulge in local specialties such as hearty sausages, freshly baked bread, and artisanal cheeses. Engage with friendly vendors who take pride in their craft, and savor the flavors of the region.
Nienburg, Lower Saxony
Nienburg invites you to unwind, recharge, and immerse yourself in the tranquil rhythms of a cottagecore lifestyle. Whether you're sipping tea in a blossoming garden, taking a leisurely bike ride along the Weser, or simply savoring the beauty of historical architecture, this charming town captures the very essence of cottagecore living.\
Riverside Romance: One of Nienburg's most enchanting features is its relationship with the Weser River. The riverside promenade is perfect for leisurely walks, where you can watch the gentle flow of the water, observe swans gliding gracefully, and savor the calming melodies of the riverbanks. It's a place where you can truly reconnect with nature.
Half-Timbered Treasures: Nienburg boasts a wealth of half-timbered houses that exude historic charm. Stroll through the winding streets, and you'll feel as though you've stepped back in time. These architectural wonders, adorned with colorful blooms, invite you to explore their stories and snap photos that capture the essence of rustic elegance.
Bucolic Gardens: For lovers of green spaces, Nienburg offers a variety of beautifully landscaped gardens. The Palace Garden, with its blossoming flowers and manicured lawns, is a dreamy spot for picnics and relaxation. The Japanese Garden provides a tranquil escape, while the Baroque Garden at the Nienburg Castle is a testament to timeless beauty.
Denmark: Scandinavian Cottagecore Magic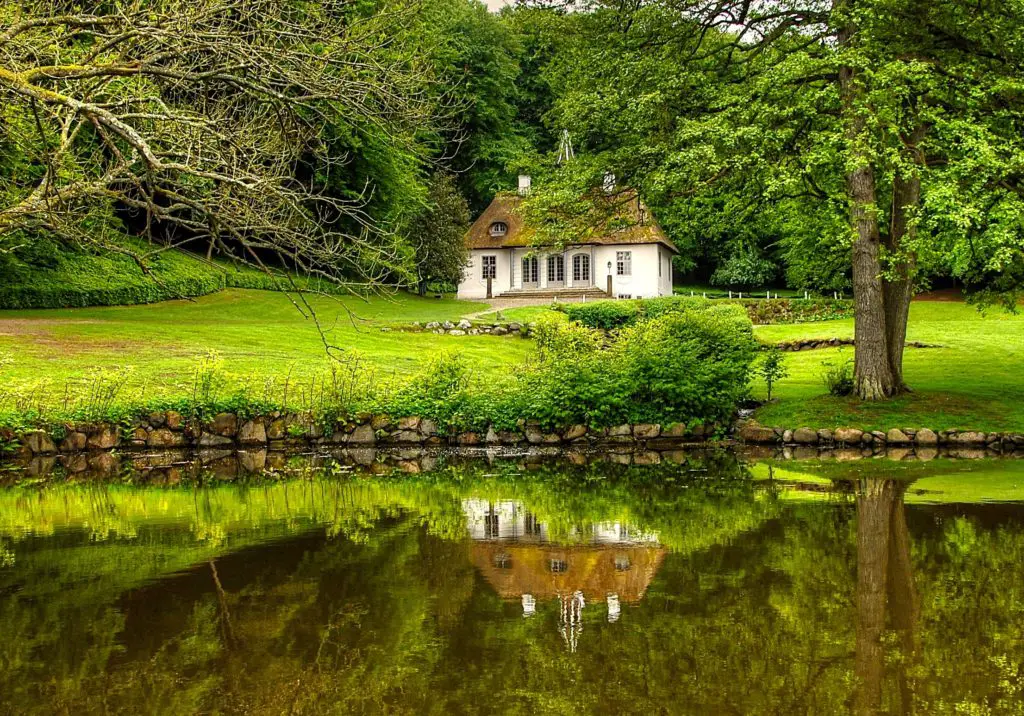 Bogense, Region of Southern Denmark
Nestled on the scenic coast of Funen, Denmark, Bogense is a picturesque town that beckons with its cottagecore charm. This idyllic coastal haven embodies the essence of a slow, nature-infused life, making it the perfect addition to your cottagecore wanderlust list.
Seaside Serenity: Bogense's crown jewel is its breathtaking coastline along the Baltic Sea. Imagine waking up to the soothing sound of waves gently caressing the shore and the invigorating scent of sea salt in the air. The beaches here, with their soft sands and crystal-clear waters, are ideal for tranquil strolls, picnics, or simply unwinding while listening to the seabirds' symphony.
Pastel-Perfect Streets: Wander through Bogense's cobbled streets lined with charming, pastel-hued houses adorned with roses and ivy. These architectural gems offer an enchanting backdrop for leisurely walks and a whimsical setting for your cottagecore fantasies. Don't forget to capture the beauty of these quaint abodes with your camera.
Fyn's Flora: Denmark's "Garden Island," Funen, graces Bogense with a rich tapestry of flora. Explore the Bogense Botanical Garden, where you'll encounter a dazzling array of plants and flowers. Whether you're a seasoned botanist or simply adore the serenity of blooming gardens, this spot is sure to inspire your inner nature lover.
Local Delicacies: Savor the delectable tastes of Denmark in Bogense's eateries. Freshly caught seafood, artisanal cheese, and homemade pastries grace the menus here. Sample some local delicacies, engage in friendly conversations with the locals, and experience the genuine warmth of Danish hospitality.
Where to stay: Nature House in Bogense , Scandinavian Style Cottage , or this Bogense Vacation Home
United Kingdom: Quaint Villages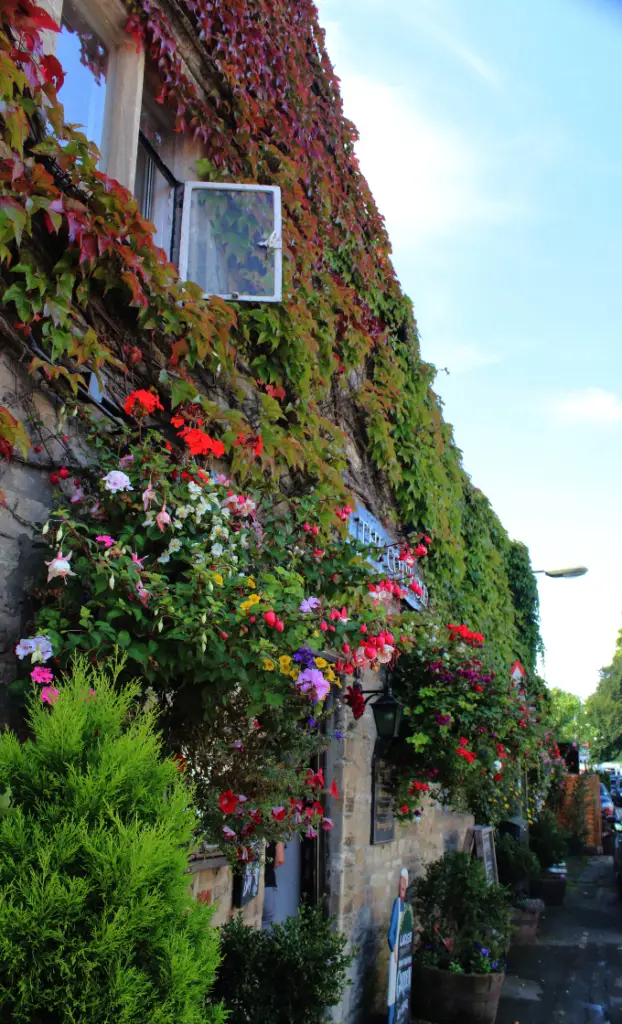 Where to stay: Luxury Cotswold Stone Cottage in the Heart of Bibury , Mayfly Cottage, or Upper Mill Barn
What to do: Villages of The Cotswolds Small Group Tour
Bibury, Gloucestershire
Nestled in the rolling hills of the Cotswold District, Bibury is a quintessential English village that reads like a page torn from a cottagecore storybook. With its charming stone cottages, gurgling streams, and lush green meadows, this enchanting hamlet epitomizes the very essence of cottagecore living.
Honey-Hued Cottages: The heart of Bibury lies in its centuries-old stone cottages, known as Arlington Row. These picturesque dwellings, with their warm, honey-colored stone walls and steeply pitched roofs, exude a timeless charm. Stroll along this iconic row, and you'll feel like you've stepped into a fairy tale.
Tranquil Riverside Moments: Bibury's crowning jewel is the River Coln, meandering gently through the village. Stroll along the riverbanks, and you'll encounter scenes straight from a dream. The soft murmur of the water, the dappling of sunlight through the trees, and the sight of ducks gliding lazily downstream create a sense of serenity that's pure cottagecore.
Village Green Bliss: The village green, flanked by centuries-old trees and charming cottages, is a perfect spot for a leisurely picnic. Spread out a blanket, savor a homemade sandwich, and bask in the tranquility of this lush oasis.
Wildflower Meadows: Explore Bibury's idyllic countryside with its rolling hills and wildflower meadows. Take long walks along footpaths that wind through fields of daisies, buttercups, and poppies. It's a sensory delight that allows you to reconnect with nature.
Quaint Tearooms: Bibury boasts delightful tearooms where you can indulge in traditional afternoon tea. Sip on fragrant teas, nibble on scones with clotted cream and jam, and relish the convivial atmosphere of these charming establishments.
Stapleford, Wiltshire
Stapleford, Wiltshire, invites you to slow down, breathe in the fresh country air, and immerse yourself in the tranquil beauty of cottagecore living. It's a place where the pace of life aligns with the seasons, and each day unfolds at its own gentle rhythm.
Local Charm: Immerse yourself in the warm hospitality of Stapleford by visiting its traditional tearooms and country pubs. Sample homemade cakes, indulge in hearty fare, and strike up conversations with the friendly locals who are always eager to share stories about the village.
Artistic Inspirations: Stapleford has long been a source of inspiration for artists and writers. The captivating scenery, serene ambiance, and timeless charm have found their way into various works of art, making it an ideal place for creative souls.
Village Events: Depending on the time of year, Stapleford might surprise you with its local events. From summer fêtes to harvest festivals, these gatherings offer a delightful glimpse into the close-knit community spirit.
Gardens of Delight: Explore the gardens that dot the village, bursting with colorful blooms and whimsical details. Whether it's a cottage garden brimming with roses or a quiet corner adorned with lavender, you'll find nature's beauty at every turn.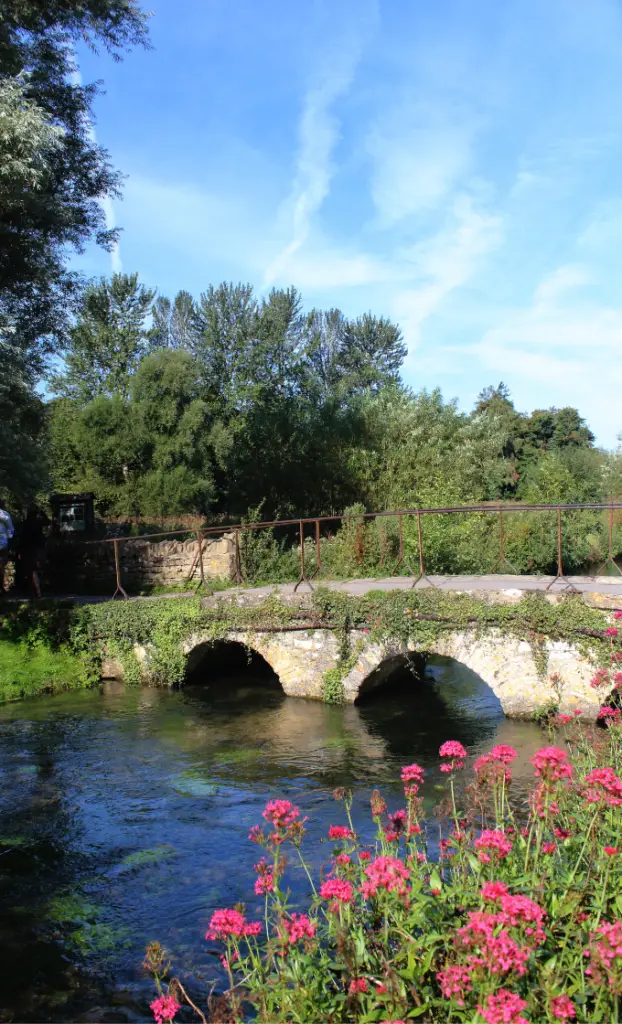 Where to stay: Cosy Cot , Sign of the Angel , or Perfect Cottage Hideaway in the Divine Pewsey Vale
What to do: Roman Bath & Ancient Stonehenge Full-Day Tour
Canada: Rustic Retreats in the Great North
Goderich, Ontario
Nestled along the shores of Lake Huron, Goderich, Ontario, is a haven for those seeking the serene and picturesque beauty of cottagecore living. With its charming streets, natural wonders, and a welcoming community, this small town exudes a rustic charm that's impossible to resist.
Historic Architecture: Goderich boasts a treasure trove of heritage buildings and Victorian-era architecture. The picturesque downtown core is dotted with quaint shops, inviting cafes, and art galleries housed in century-old buildings. Taking a leisurely stroll down these streets feels like stepping into a bygone era.
Lakeside Serenity: The town's picturesque harbor and marina are perfect for lakeside relaxation. Admire the sailboats and the mesmerizing dance of the waves, or take a serene lakeside walk as the sun paints the sky with hues of pink and gold during sunset.
Courthouse Park: The heart of Goderich is Courthouse Park, an exquisite garden oasis surrounding the historic county courthouse. You'll find lush flowerbeds, shady trees, and charming benches that beckon you to sit and soak in the tranquil atmosphere.
Parks and Trails: Nature enthusiasts will adore Goderich's natural offerings. The Maitland Woods provide hiking trails that wind through forests and along riverbanks, offering a peaceful escape into the wilderness. Meanwhile, the Tiger Dunlop Heritage Trail invites you to explore the town's history while enjoying the great outdoors.
Summerside, PEI
Tucked away on Prince Edward Island's gentle shores, Summerside is a coastal gem that embodies the essence of cottagecore living. With its idyllic waterfront, scenic landscapes, and a rich cultural tapestry, this town is a dreamy destination for those seeking a quintessential cottagecore experience.
Coastal Charms: Located along the southern coast of PEI, Summerside welcomes you with open arms to its picturesque harbor. The sight of fishing boats gently swaying in the harbor and seagulls soaring overhead creates a serene, coastal ambiance that's perfect for unwinding.
Historic Allure: Summerside's historic architecture and charming streets beckon you to wander through time. The town's downtown core boasts Victorian-era buildings that house delightful boutiques, cozy cafes, and antique shops. Every corner reveals a piece of history, making it an ideal place for leisurely strolls.
Island Hospitality: The warmth and friendliness of Islanders are legendary, and Summerside is no exception. Locals are always ready to strike up a conversation, share stories, and offer a helping hand. You'll quickly feel like a welcomed guest, not just a visitor.
Waterfront Promenade: Enjoy a leisurely walk along the waterfront promenade, where you can watch the boats glide by and take in the stunning views of the Northumberland Strait. Whether it's a morning stroll or an evening sunset, this serene setting is perfect for moments of contemplation.
Spinnaker's Landing: Spinnaker's Landing is a bustling marketplace by the sea, where you'll find artisans, musicians, and local vendors showcasing their talents. It's a hub of creativity, making it the perfect place to pick up handmade souvenirs or simply immerse yourself in the island's artistic spirit.
Where to stay: Holman's Heritage Suites , Sunflower Guest Suites
United States: Cottagecore Charms from Coast to Coast
Brevard, North Carolina
Nestled within the embrace of the Blue Ridge Mountains, Brevard, North Carolina, is a haven for those seeking a quintessential cottagecore experience. This charming town exudes a sense of rustic simplicity and natural beauty that perfectly aligns with the cottagecore way of life.
Enchanted Forests: Brevard is known as the "Land of Waterfalls," and for good reason. The area is adorned with numerous waterfalls, each one a poetic cascade of nature. Hiking through lush forests to reach these falls creates a fairy tale-like experience, reminiscent of a cottagecore adventure.
Mountain Serenity: Surrounded by the stunning peaks of the Blue Ridge Mountains, Brevard offers a peaceful refuge from the bustling world. The gentle sway of trees and the crisp mountain air set the scene for a relaxing retreat, allowing you to reconnect with nature and find solace in its embrace.
Artistic Soul: Brevard is a hub of creativity and artistic expression. The town boasts galleries, art studios, and craft boutiques that showcase the talent of local artisans. Exploring these artistic spaces is akin to wandering through the creative heart of cottagecore, where handmade and heartfelt creations abound.
Mount Desert Island, Maine
Imagine if there were a crown for the ultimate cottagecore destination—without a doubt, Mount Desert Island in Maine would be the jewel adorning it. Nestled in the gentle embrace of the vast Atlantic Ocean, this hidden gem has wrapped itself around my heart in a way no other place ever has. Allow me to share why for me, it's not merely a destination; it's a captivating and enchanting journey right into the heart of all things cottagecore.
Acadia National Park: The crown jewel of the island, Acadia National Park, is a nature lover's paradise. Its scenic beauty is a canvas of sun-kissed meadows, crystal-clear lakes, and granite mountain peaks. Hiking through its trails is like strolling through pages of a beloved novel, where every step narrates a different story.
Quaint Coastal Villages: The island is peppered with charming coastal villages like Bar Harbor and Southwest Harbor, where life moves at its own pace. Quaint shops, locally-owned boutiques, and cozy cafés line the streets, inviting you to slow down, take a seat, and savor life's simple pleasures.
Ocean Breezes and Salty Air: There's something magical about the scent of salty air mingling with the whispers of the ocean breeze. It's an elixir for the soul, transporting you to a world where worries dissipate, and all that remains is the serenity of the sea.
Sunrise on Cadillac Mountain: A sunrise from the summit of Cadillac Mountain is a spectacle that's etched in my memory. As the first rays of dawn kiss the horizon, painting the sky with hues of orange and pink, you realize why embracing the day's beginning is a cherished cottagecore ritual.
Cottagecore Accommodations: Whether you choose a charming bed-and-breakfast overlooking the harbor or a cozy cabin tucked in the woods, your stay on Mount Desert Island is bound to embody cottagecore elegance. The accommodations here are like a warm embrace, inviting you to unwind and relish the simple joys of life.
Starry Nights: When the day bids adieu and the stars light up the night sky, Mount Desert Island transforms into a magical wonderland. Gazing at the constellations, wrapped in a cozy blanket, you'll understand why connecting with the cosmos is an integral part of the cottagecore experience.
As we wander through these charming cottagecore destinations, let's remember that the essence of cottagecore isn't just about picturesque landscapes and quaint villages. It's about embracing simplicity, finding joy in nature's beauty, and nurturing a deep connection with our surroundings. Whether you choose a snug cottage in the Cotswolds, a coastal retreat in Maine, or any of the other enchanting places on this list, you'll discover the magic of a slower, more mindful way of life.
These destinations invite you to step back in time, slow down, and savor the little things. Whether it's the scent of wildflowers in a meadow, the taste of freshly baked bread, or the feeling of soft grass beneath your feet, cottagecore lets you relish life's simple pleasures.
So, dear reader, I hope this journey through these dreamy cottagecore locations has inspired you to embrace a touch of cottagecore in your own life. Whether you're tending to a garden, sipping tea on a cozy porch, or taking a leisurely stroll in the countryside, there's a little cottagecore magic waiting for you. So go ahead, create your own storybook moments and let the cottagecore spirit infuse your life with its timeless charm. 🌿
Continue Reading about the Cottagecore Lifestyle: