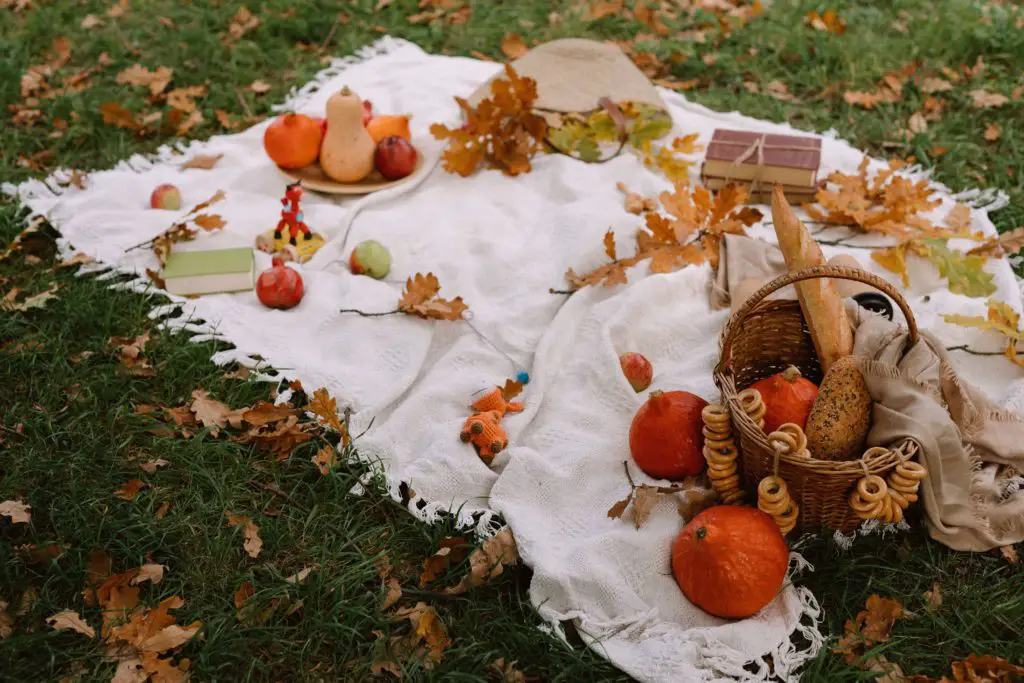 Cottagecore-Inspired Fall Recipes: Rustic Comfort Food For The Soul
As the leaves begin their transformation into hues of amber and gold, and a cool breeze carries the scent of earth and wood, there's something magical about the arrival of fall. It's a season that beckons us to slow down, savor moments, and relish the simple joys of life. And what better way to embrace this whimsical season than by indulging in the delightful art of cottagecore-inspired cooking?
In today's post, I invite you to explore a world where time seems to slow, and every bite carries the essence of the season. These cottagecore-inspired fall recipes are more than just dishes; they are a portal to a realm where we cherish the timeless rituals of cooking, the warmth of gatherings, and the joy of creating wholesome, comforting food.
Are you ready to fill your home with the aroma of fall and your heart with the comfort of homemade meals?
Setting The Cottagecore Scene
Before we dive into the recipes, let's set the stage for our cottagecore-inspired culinary adventure. Cottagecore is not just about the food; it's an entire experience, an immersion into the rustic charm of yesteryears. Creating the right ambiance enhances the joy of cooking and indulging in these cozy fall dishes.
1. Embrace Nature's Bounty: Begin by adorning your space with elements inspired by the great outdoors. Freshly picked wildflowers in mason jars, pinecones, and colorful autumn leaves can add a touch of nature's beauty to your kitchen or dining area. These simple touches will instantly transport you to a cottage nestled in the woods.
2. Warm, Soft Lighting: Soft, warm lighting is essential for creating that cottagecore ambiance. Swap out harsh fluorescent lights for soft, warm-toned bulbs or fairy lights. The gentle glow will make your kitchen feel like a haven of tranquility.
3. Rustic Tableware: Invest in some rustic or vintage-style tableware. Think ceramic plates with delicate floral patterns, mismatched antique teacups, and distressed wooden serving platters. These details will infuse a sense of nostalgia into your dining experience.
4. Cozy Textiles: Incorporate cozy textiles like checkered tablecloths, embroidered napkins, and soft cushions for your dining chairs. It's all about creating an inviting and comfortable space where you and your loved ones can gather.
5. Background Tunes: Don't underestimate the power of music to enhance your cottagecore experience. Play some folk tunes, classical melodies, or acoustic guitar in the background. Better yet, I recently stumbled upon a delightful Spotify playlist called "Cottagecore Autumn // Cozy Vintage Country." It's a curated collection of songs that will transport you to a quaint cottage in the countryside.
Now that the stage is set, your culinary creations will taste even more delicious.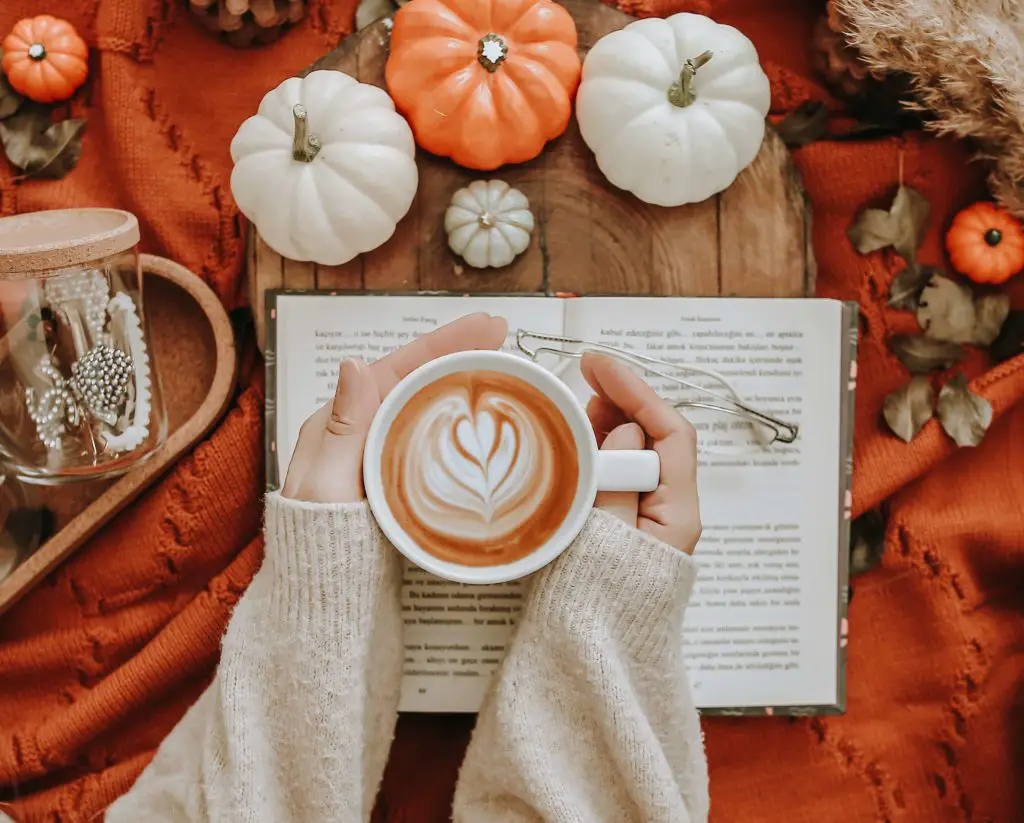 Warm and Cozy Fall Drinks
Now let's dive into some heartwarming fall drink recipes. These beverages are like liquid comfort, wrapping you in a cozy embrace. They're ideal for sipping by the fireside, sharing with loved ones, or enjoying in solitude as you watch the leaves rustle outside your window.
Picture this – a creamy blend of white chocolate and pumpkin, infused with the warmth of fall spices. This slow-cooker recipe is incredibly simple yet exquisitely indulgent. As it simmers away, your kitchen will be filled with the irresistible aroma of autumn.
Just because summer is bidding farewell doesn't mean you have to bid adieu to iced drinks. Enter the Iced Pumpkin Spiced Latte, a refreshing twist on a classic. Combine espresso or strong coffee with pumpkin syrup, a dash of spice, and your choice of frothed milk. Add ice, stir, and voila – you have a chilly, pumpkin-infused masterpiece to brighten your day.
Nothing says fall quite like apple cider. And when you add a swirl of caramel to the mix, you've got a winning combination. This recipe takes you on a journey through an orchard, where crisp apples meet the rich, buttery notes of caramel. Warm it on the stovetop or in the microwave, and let the sweet fragrance envelop you. It's pure autumn in a cup.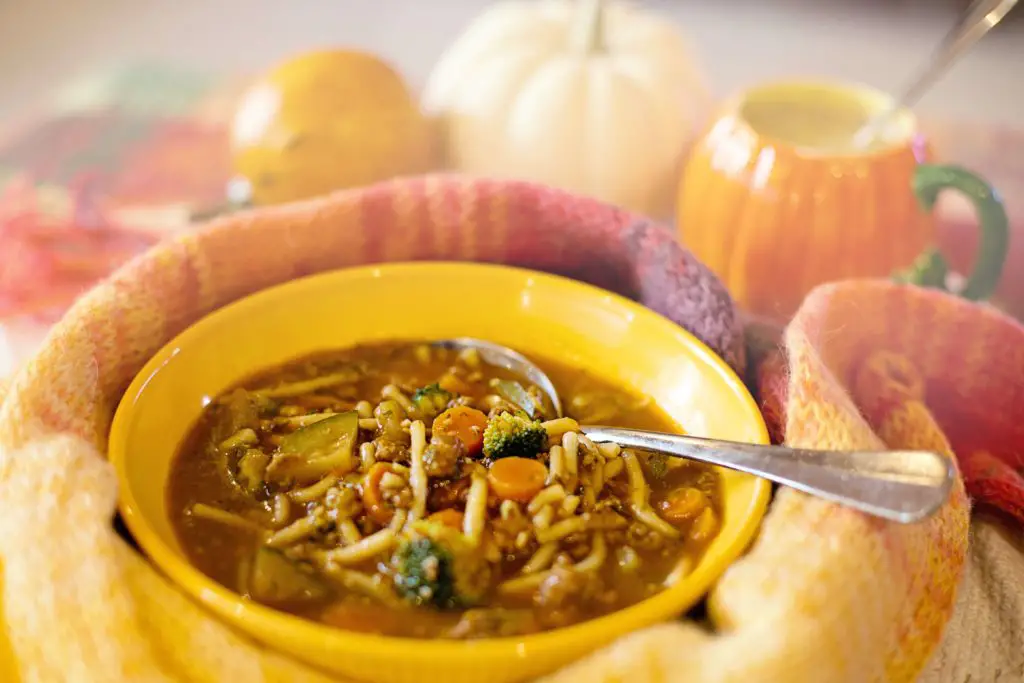 Comforting Cottagecore Meals
Now, as the air turns crisp and your cozy cottagecore haven is adorned with warm lighting and the perfect playlist, it's time to explore some soul-nourishing meals. These recipes are inspired by the rustic charm of cottagecore living, where the kitchen is the heart of the home.
Creamy Orzo Pasta
Imagine a bowl of tender orzo pasta swathed in a velvety, herb-infused cream sauce. It's comfort food at its finest, with a touch of elegance. This recipe from Juliasalbum.com brings together the simplicity of orzo, the richness of heavy cream, and the vibrant flavors of fresh herbs. Whether enjoyed as a comforting solo supper or a side dish, it's sure to bring a smile to your face.
Roasted Garlic Sage Pesto Pumpkin Soup
Fall wouldn't be complete without a steaming bowl of pumpkin soup, but this recipe from halfbakedharvest.com takes it up a notch. Roasted garlic and sage come together to create a fragrant, earthy pesto that transforms a humble pumpkin soup into a culinary masterpiece. The aroma alone is enough to transport you to a cozy cottage in the heart of the countryside.
Creamy Butternut Squash Gnocchi with Sausage
Gnocchi, those delicate potato dumplings, meet the sweet, nutty flavor of butternut squash in this delectable recipe by Juliasalbum.com. Tossed in a creamy sauce and accompanied by sausage, it's a symphony of textures and tastes that will leave you craving more. This dish encapsulates the essence of fall with each delicious bite.
These meals are more than just sustenance; they're a celebration of the season. As you gather around your rustic table, bathed in the soft glow of autumn candlelight, these dishes will evoke the feeling of a cottagecore feast. With each bite, you'll savor the wholesome flavors of fall that will warm your heart long after the meal is finished.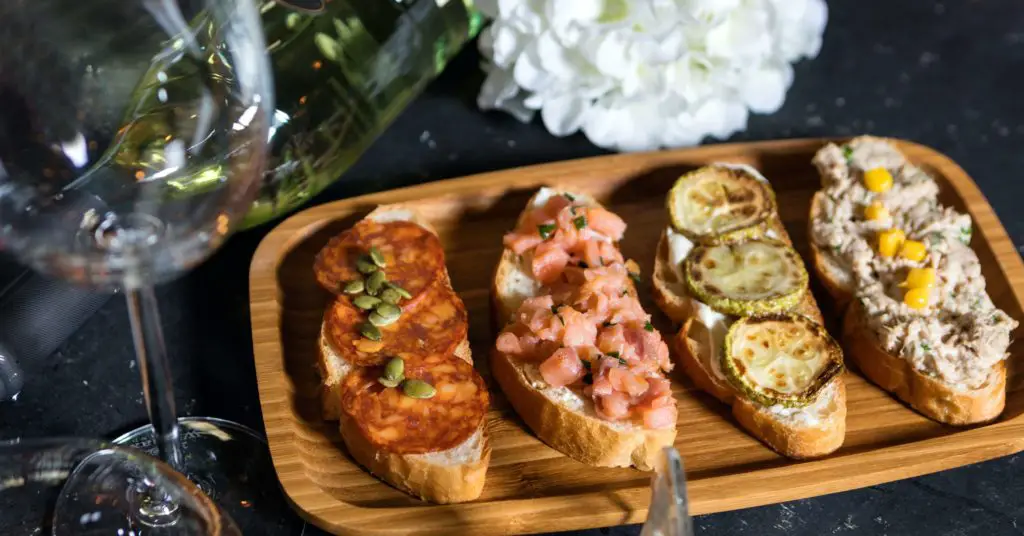 Wholesome Autumnal Appetizers
Before we dive into the heartwarming world of fall desserts, let's set the stage with some delightful cottagecore-inspired appetizers.
Roasted Carrots with Candied Pecans and Goat Cheese
Imagine plump, caramelized carrots adorned with candied pecans and crumbled goat cheese, all drizzled with a balsamic reduction. This recipe from inspiredbycharm.com is a symphony of flavors and textures. It captures the essence of fall with its roasted vegetables and a hint of sweet decadence, making it the perfect appetizer to start your cottagecore-inspired meal.
Fall Bruschetta
Elevate the classic bruschetta with a fall-inspired twist. TheMagnoliaMamas.com's recipe combines the rich, earthy flavors of roasted butternut squash, apples, ricotta cheese, and a balsamic glaze, all atop toasted baguette slices. This appetizer embodies the essence of cottagecore living, where fresh, seasonal ingredients take center stage.
Smoked Gouda & Apple Crostini with Honey Drizzle
When you think of cottagecore, envision a platter of crispy crostini topped with creamy smoked gouda, thinly sliced apples, and a drizzle of golden honey. JoyfulHealthyEats.com's recipe encapsulates the sweet and savory harmony of autumn. It's a delightful combination of flavors that awakens your taste buds and leaves you craving more.
Now, with your appetite pleasantly teased, let's venture into the sweet finale of our rustic cottagecore-inspired menu – fall desserts that will leave you craving seconds.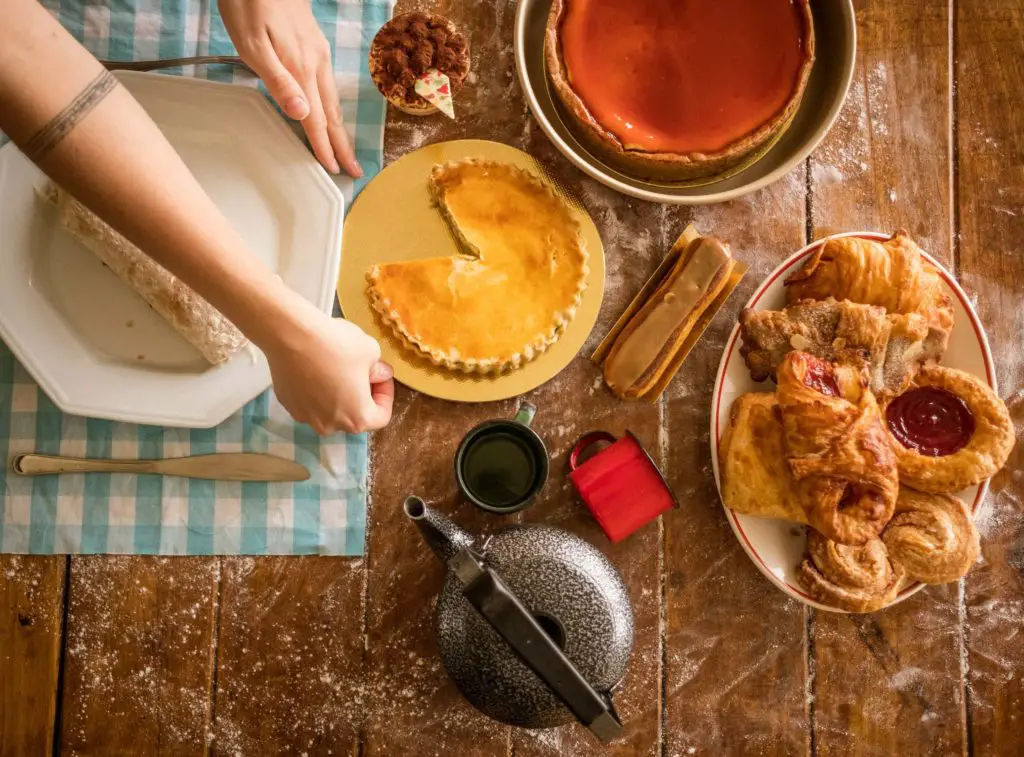 Rustic Cottagecore Desserts: Sweet Endings to Warm Your Soul
As the sun dips below the horizon, casting a golden hue across your cottage, it's time to delve into the sweet finale of our rustic feast. Desserts that embody the essence of cottagecore – simple, heartwarming, and irresistibly delicious. These treats are the sweet endings that will wrap you in a warm embrace, just like a cozy blanket on a crisp autumn evening.
Chai Sugar Cookies:
For starters, there's something undeniably comforting about a batch of freshly baked cookies. HandleTheHeat.com's Chai Sugar Cookies take this classic favorite to a whole new level. Infused with the warm spices of chai tea, these cookies are a testament to the cozy flavors of fall. Their delicate texture and aromatic spices will transport you to a rustic cottage kitchen, where the scent of freshly brewed tea and the joy of shared moments linger in the air.
Hot Buttered Apple Sauce With Cinnamon and Nutmeg:
Up next, ButterForAll.com brings us a dessert that's the epitome of rustic charm – Hot Buttered Apple Sauce. This velvety sauce is a celebration of the season's bounty, featuring the comforting notes of cinnamon and nutmeg. Drizzle it over a scoop of vanilla ice cream or enjoy it on its own for a dessert that captures the very essence of cottagecore living – simplicity, warmth, and the pure pleasure of savoring nature's gifts.
Salted Caramel Apple Galette:
Finally, ChoosingChia.com invites us to revel in the rustic beauty of a Salted Caramel Apple Galette. Picture a flaky, buttery crust enveloping a luscious filling of sliced apples bathed in salted caramel sauce. This dessert is a testament to the art of imperfection, where the beauty lies in the rustic, uneven edges of the galette. It's a taste of the countryside, where orchards abound, and the sweetness of ripe apples is celebrated with every bite.
Let these desserts be an invitation to slow down and savor the moment. Whether you're sharing these desserts with loved ones or indulging in solitude, they are a reminder of the simple joys that cottagecore living brings – a genuine connection to nature, the pleasure of homemade goodness, and the warmth of a well-loved home.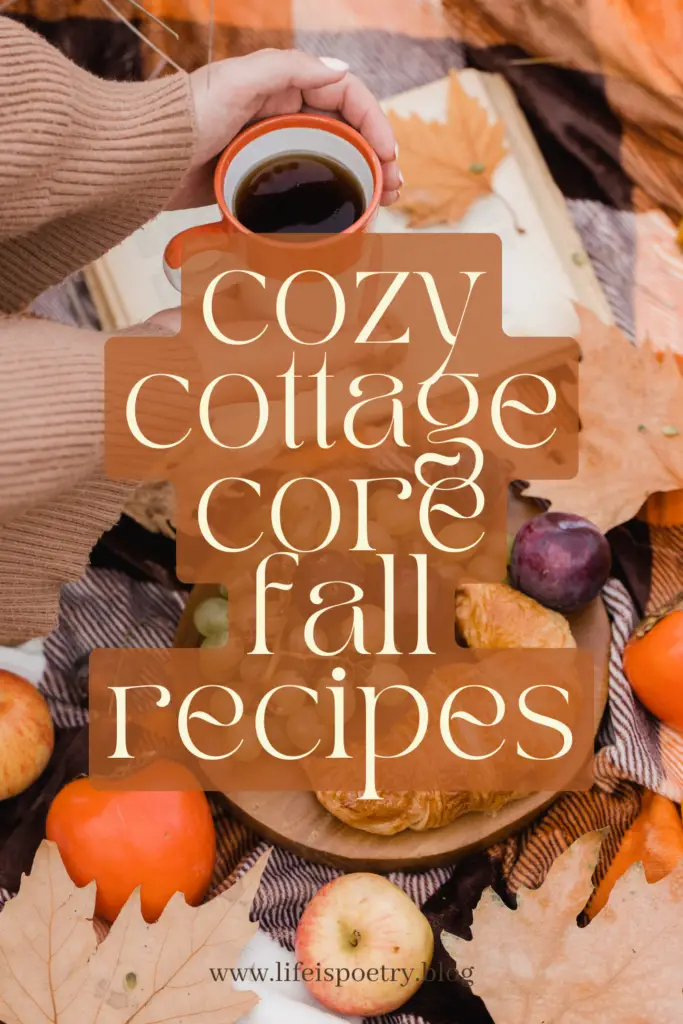 I hope these recipes bring you as much delight as they've brought me, and that they infuse your fall with the warmth and charm of cottagecore. Cheers to sweet moments and delicious adventures in your cozy cottage kitchen!
Now, as you prepare to embark on your culinary journey, I'd love to hear from you. Which of these cottagecore-inspired fall recipes resonates with your soul? Is there a particular dish that transports you to the heart of rustic living? Share your thoughts and experiences in the comments below, and let's continue this delightful conversation.
Read More About Cottagecore, and The Art of Slowing Down: