Coffee & Couture: Channeling Lorelai Gilmore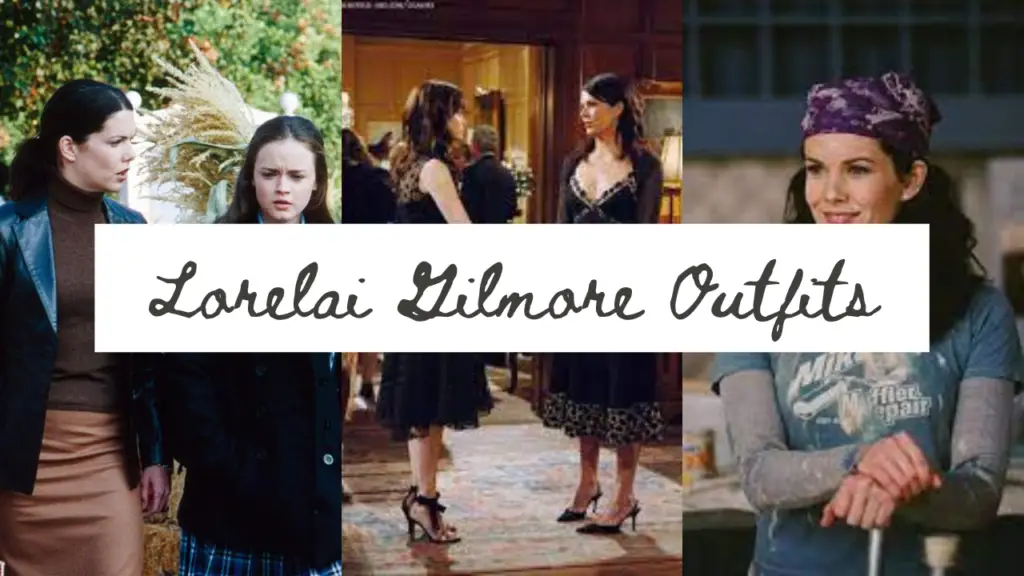 If you've ever found yourself in awe of Lorelai Gilmore's effortlessly fabulous and expressive outfits, you're in for a treat. Join me as we delve into the sartorial wonderland of the one and only Lorelai Gilmore, the true style maven of the Gilmore Girls universe. From flannels and funky patterns to a knack for making a statement, we'll be walking through her iconic looks that give us major fashion inspiration and a dash of that Gilmore charm.
Have you ever wondered how Lorelai Gilmore managed to turn everyday casual into something so incredibly cool? Or perhaps how she effortlessly combined clashing patterns and made it look like a trend?
And you know what? I've come to the conclusion that Lorelai's style is not just iconic, it's a revolution of its own. It's a rebellion against the norm, a celebration of individuality, and a testament to being unapologetically fabulous. Even now, more than two decades since the show first aired, Lorelai's looks still inspire and influence the fashion scene. So, let's unravel the secrets of her wardrobe, sip some coffee, and embrace the Gilmore magic. ☕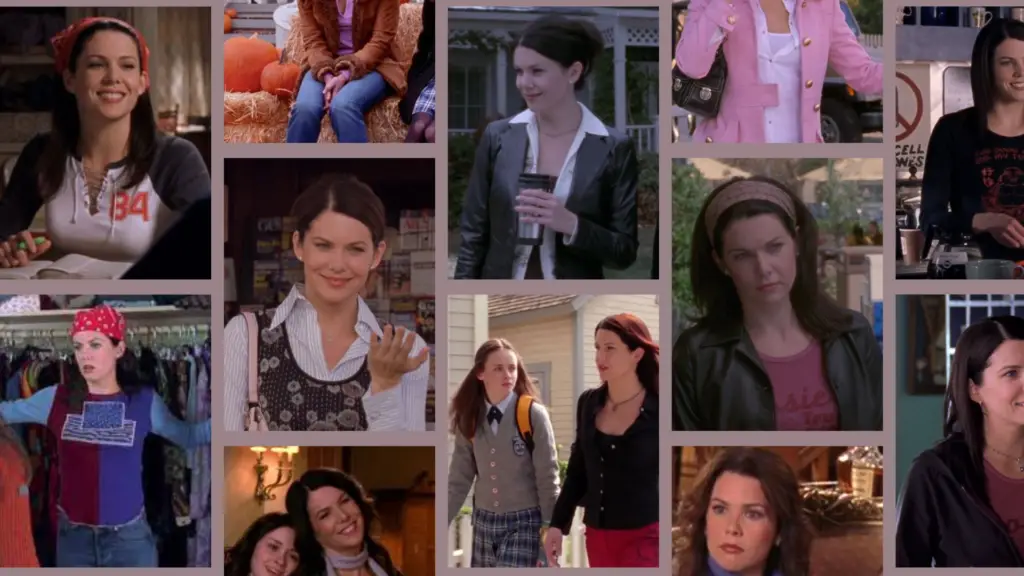 Jean Jackets & Graphic Tees: A Gilmore Casual Vibe
Ready to journey back to the early 2000s with jean jackets?? Throughout Gilmore Girls, Lorelai swung effortlessly between dark and light denim, depending on the outfit. A chic wrap dress suddenly turned casual-cool with the right denim jacket. And let's not forget about graphic tees – those timeless pieces that just never seem to lose their charm. Lorelai often dressed them up or down, or even layering them over long-sleeved shirts for that extra level of comfort.
Lorelai's Love for Wrap Dresses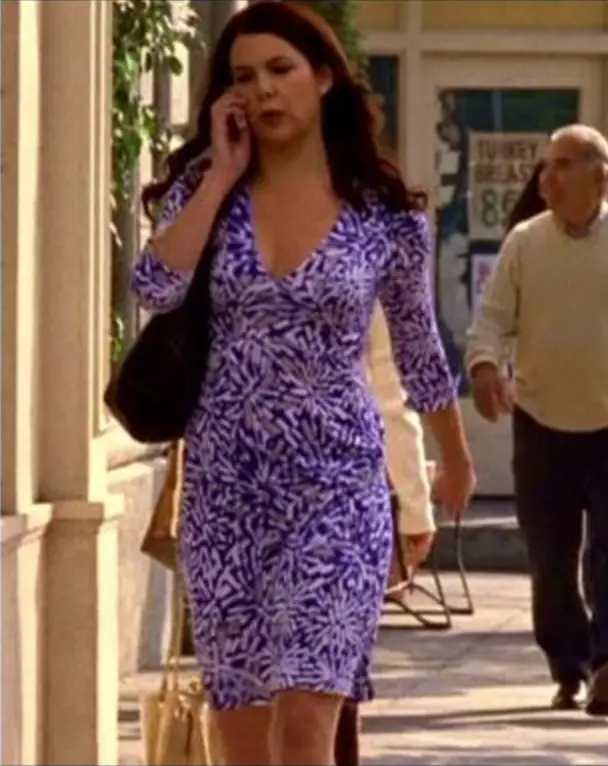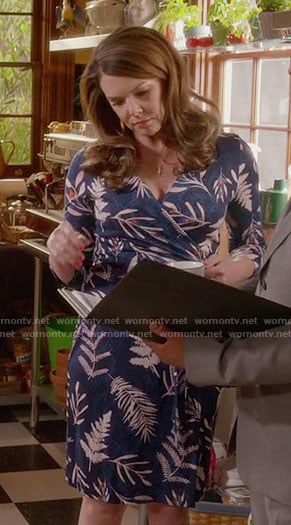 ! If there's one item that can't be overlooked in Lorelai Gilmore's iconic wardrobe, it's the timeless wrap dress. Imagine a piece of clothing that not only exudes femininity and grace but also flatters in all the right places. That's the beauty of a wrap dress – a go-to outfit that seamlessly transitions from a day at work to a night on the town.
Lorelai's wrap dress collection was nothing short of impressive. She had an eye for bold prints, delicate florals, or solid, flattering colors. For her, blue was a standout hue, bringing out the sparkle in her eyes and the vibrancy in her personality. However, not every shade of blue might complement everyone's complexion in the same way. Personally, I find that shades of orange, cream, or even a deep burgundy harmonize better with my skin tone. The trick is to experiment and find colors and patterns that resonate with you, enhancing your natural beauty and confidence.
Furthermore, wrap dresses are the epitome of versatility. Depending on how you accessorize, they can suit a variety of occasions. Add a wide-brimmed hat and some boho jewelry for a summer garden party, or pair it with a leather jacket and some ankle boots for a chic fall look. The options are as vast and varied.
Turtlenecks & Blazers: Power Dressing à la Lorelai
Picture this: crisp autumn air, the colorful foliage, and Lorelai Gilmore strutting down the streets of Stars Hollow in a chic ensemble. What's a key element of her fall look? The ever-elegant combination of turtlenecks and blazers. A match made in sartorial heaven, these classics bring sophistication and warmth to any outfit.
Lorelai had a particular penchant for sleek, form-fitting turtlenecks. Whether it was the cozy embrace of one in a solid, bold color or a subtle, striped pattern, she made them her own. The secret lies in their versatility. Pair a turtleneck with a blazer and you're ready for a business meeting or a dinner date. Opt for a more casual occasion? Team it up with your favorite jeans and some ankle boots.
Now, let's talk blazers. This timeless piece isn't just a symbol of professionalism; it's a must-have in any wardrobe. Lorelai knew this well. From a classic black blazer for a touch of urban chic to a beige one for a softer look, she had them all. A well-fitted blazer can transform an outfit, taking it from laid-back to sophisticated in a snap.
And the beauty of these pieces? They go with practically anything. Dress up a pair of jeans or a skirt, or throw them over a simple dress.
Colorful Scarves, The Lorelai Gilmore Way
In the whimsical world of Gilmore Girls fashion, one accessory that often stole the scene was Lorelai's love for skinny scarves. These scarves weren't just pieces of cloth; they were vibrant strokes of personality, enhancing her outfits and adding a touch of artistic flair.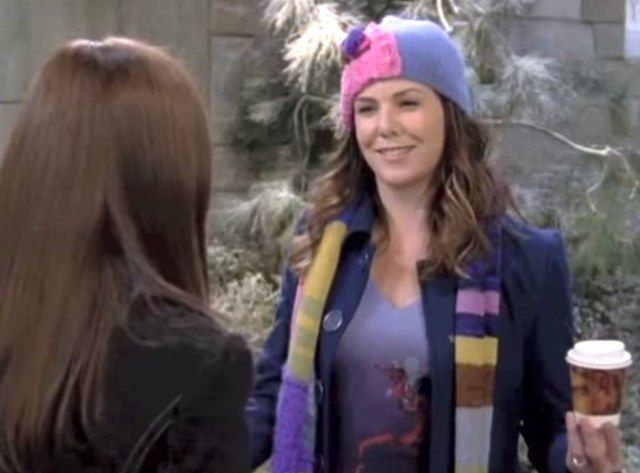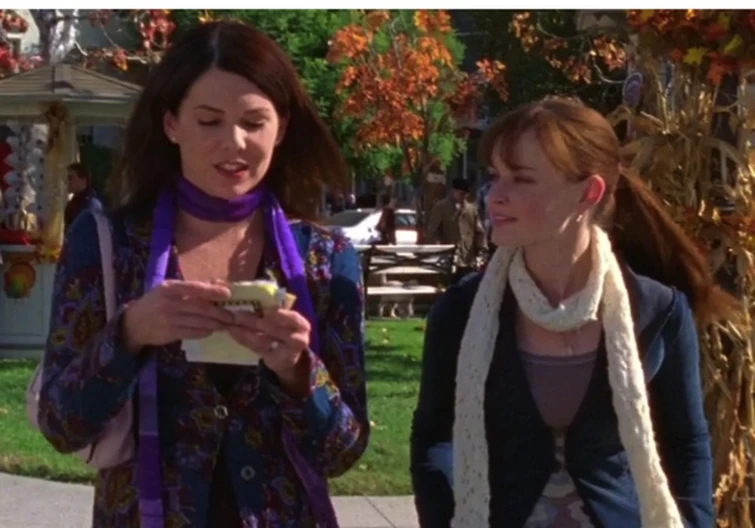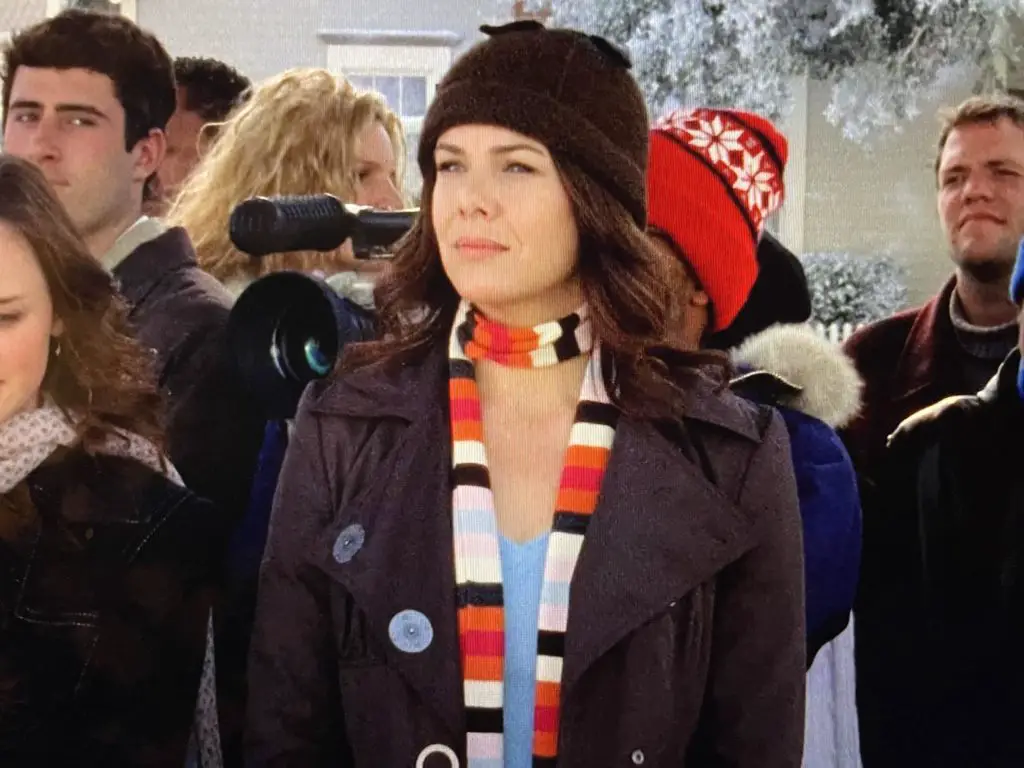 While chunky oversized scarves are all the rage in contemporary fashion, Lorelai's preference for the slim ones from the early 2000s is a style statement worth noting. It's fascinating to see how fashion cycles bring back trends, and skinny scarves are finding their way back into the modern fashion scene.
Lorelai's skinny scarves were an extension of her playful and spirited personality. They were like ribbons of joy, effortlessly draping around her neck, adding that perfect pop of color to her ensembles. A vibrant red scarf could turn a simple outfit into a statement, and a rich blue one could make her eyes sparkle even more.
This revival of early 2000s trends brings forth the joy of experimentation. Today, you can take a page from Lorelai's style book and incorporate skinny scarves into your outfits. They offer a certain elegance and playfulness, allowing you to create unique, eye-catching looks that reflect your own vibrant personality.
Hats and Bandanas: Lorelai's Quirky Crowning Glories
If we dive into the treasure trove of Lorelai Gilmore's style, we'll find her head adorned with an array of fashionable and often whimsical accessories. The late 90s and early 2000s were an era of experimental headwear, and Lorelai embraced it with open arms.
Bandanas: A quintessential element of her style, bandanas were like her signature. Tied around her head with a certain nonchalance, they were a blend of practicality and fashion. Whether in a bohemian knot or a stylish bow, the bandana added a playful touch to her outfits.
Bucket Hats: Another staple from that era, bucket hats were a favorite. Lorelai often sported them, showcasing their versatility with various ensembles. They added a casual, laid-back vibe that perfectly matched her character.
Beanies: As the New England weather turned chilly, Lorelai would swap her bandana or bucket hat for a cozy beanie. These snug head-huggers kept her warm while adding a touch of urban chic to her looks.
Statement Hats: From quirky, oversized hats to playful, themed ones, Lorelai never shied away from making a statement. These hats, be it a cowboy hat or a hat adorned with flowers, were an extension of her personality – bold, vivacious, and unpredictable.
Fashion is about self-expression, and Lorelai's choice of headwear was her way of showcasing her vibrant spirit. Today, as trends from that time make a comeback, you too can experiment with these accessories to add flair to your outfits. Embrace the quirkiness and find headwear that reflects your unique style.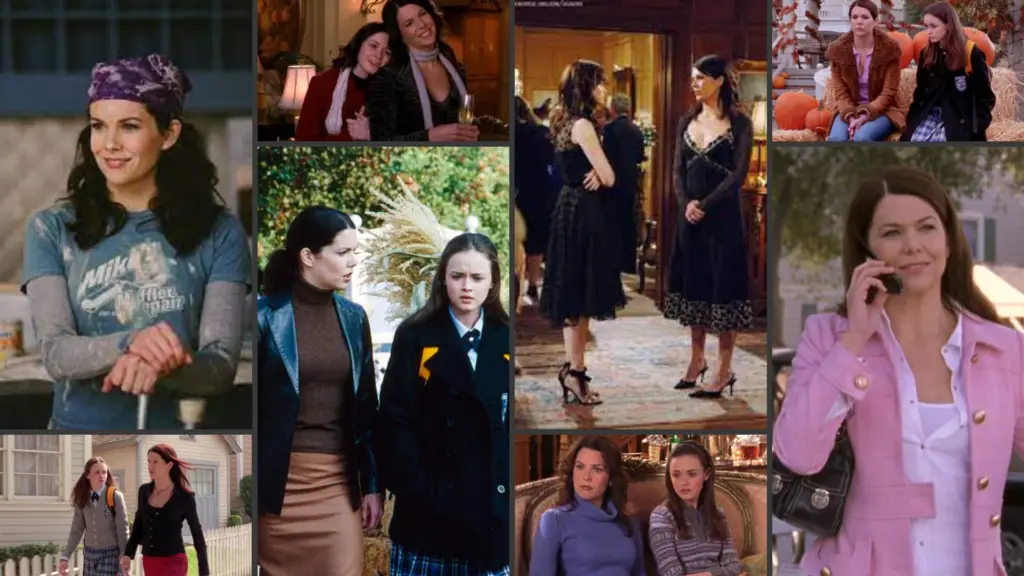 Embrace the "Gilmore Girls Season" and Style
As we bid adieu to Lorelai Gilmore's fabulous fashion journey through Stars Hollow, we realize that her style is not just a throwback to a particular era—it's timeless. It's a testament to the fact that fashion isn't about fleeting trends, but about embracing what makes you feel confident and uniquely you.
As fall comes around, there's a certain warmth that envelopes us. A familiar coziness settles in, akin to re-watching Gilmore Girls—a show that feels like coming home. It's a season some affectionately call "Gilmore Girls Season," where we can relive the magic of Lorelai and Rory Gilmore's adventures.
So, as the leaves turn and the air crisps, take a page from Lorelai's style book. Mix and match, embrace the quirky accessories, and wear your confidence with pride.
Read More: