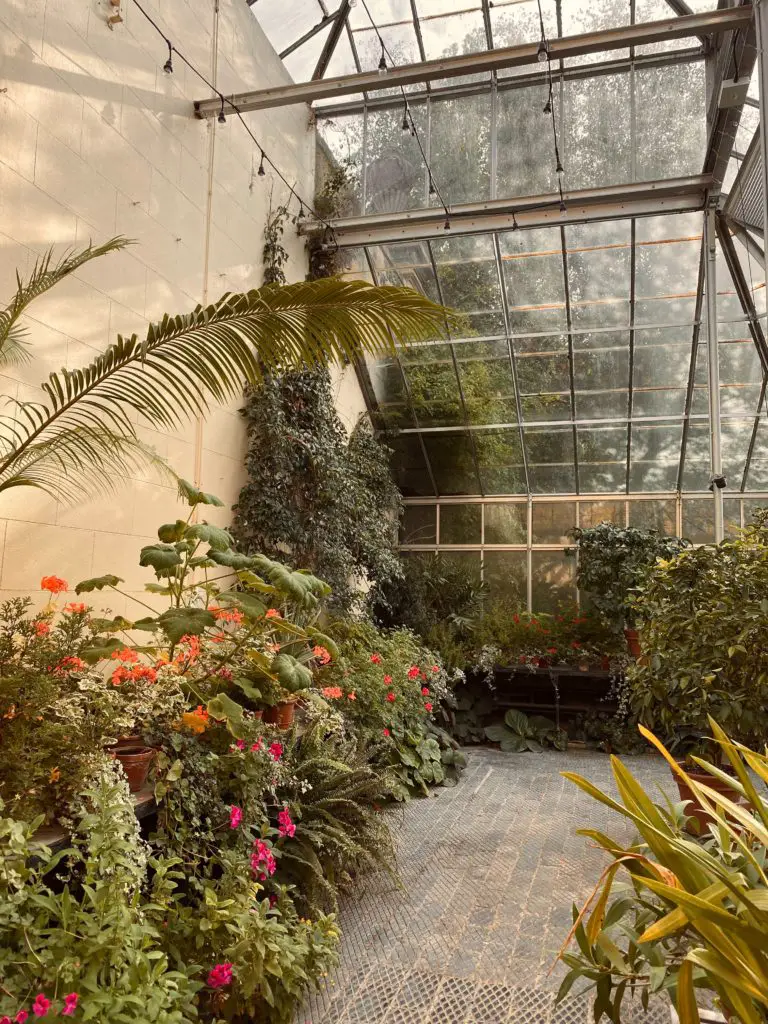 As the weather warms up and flowers begin to bloom, it's the perfect time to embrace the charming world of cottagecore.
This idyllic aesthetic celebrates the simple life and the beauty of nature, and there's no better season to fully immerse yourself in it than spring. Whether you're looking for peaceful solo activities or fun outings with loved ones, there are plenty of ways to experience the magic of cottagecore this season. In this post, we'll explore some of the best cottagecore activities to try this spring, from tranquil garden walks to whimsical crafting projects.
So grab your favorite floral dress and a basket for gathering wildflowers, and let's dive into the enchanting world of cottagecore together!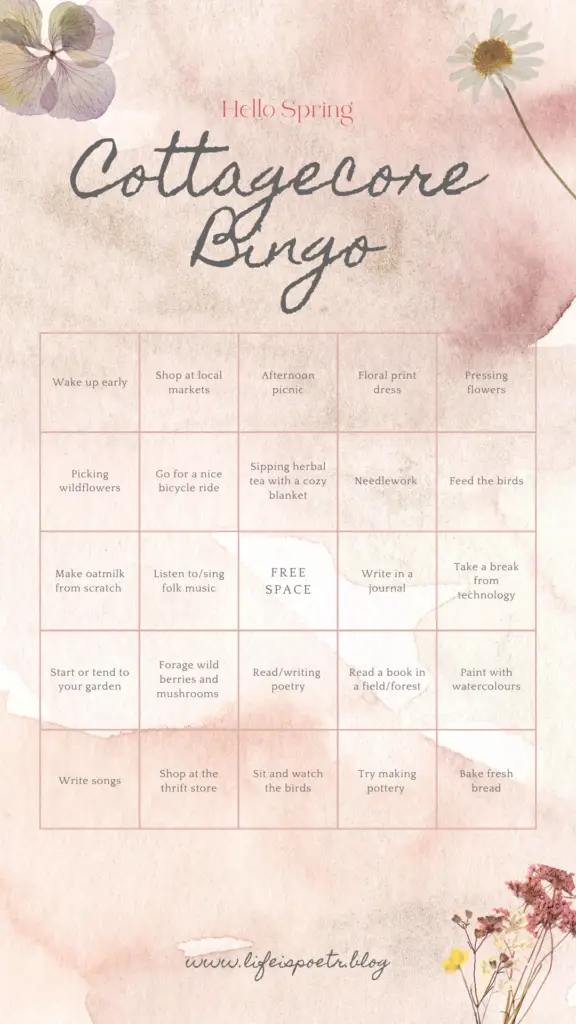 Shop at local markets
Spring is a time when local markets burst with life, color, and flavor. There's something special about strolling through the stalls, breathing in the sweet scents of fresh flowers, and tasting the bounty of the season.
Weather you're looking for handmade items, fresh fruit and veggies, or local art, the farmers market is a treasure trove of specialties. It's also a great way to get out and meet people in your community who share similar interests!
Take up a new cottagecore-esque hobby
If cottagecore isn't a real word, cottagecore-esque is definitely not a word. Oh well!
A few hobbies I consider to be cottagecore-esque are needlework, pottery, painting with watercolors, writing and reading poetry… just to name a few. Each of these activities requires patience, focus, and creativity, making them the perfect antidote to the frenetic pace of modern life.
Pottery allows you to get your hands dirty and create functional pieces of art, while watercolor painting lets you capture the beauty of the natural world in a delicate and expressive way. Needlework, meanwhile, provides a meditative space to stitch, sew, and knit cozy items. Don't even get me started on poetry. As the name of this website would suggest, we love poetry here and everything it stands for.
Poetry is about embracing creativity, beauty, and meaning in all aspects of your daily experience. It's about paying attention to the small moments and finding the extraordinary in the ordinary. To enjoy poetry is more than just reading and writing, but living a poetic life. If you are interested in reading or learning about writing poetry of your own, check out our poetry page here.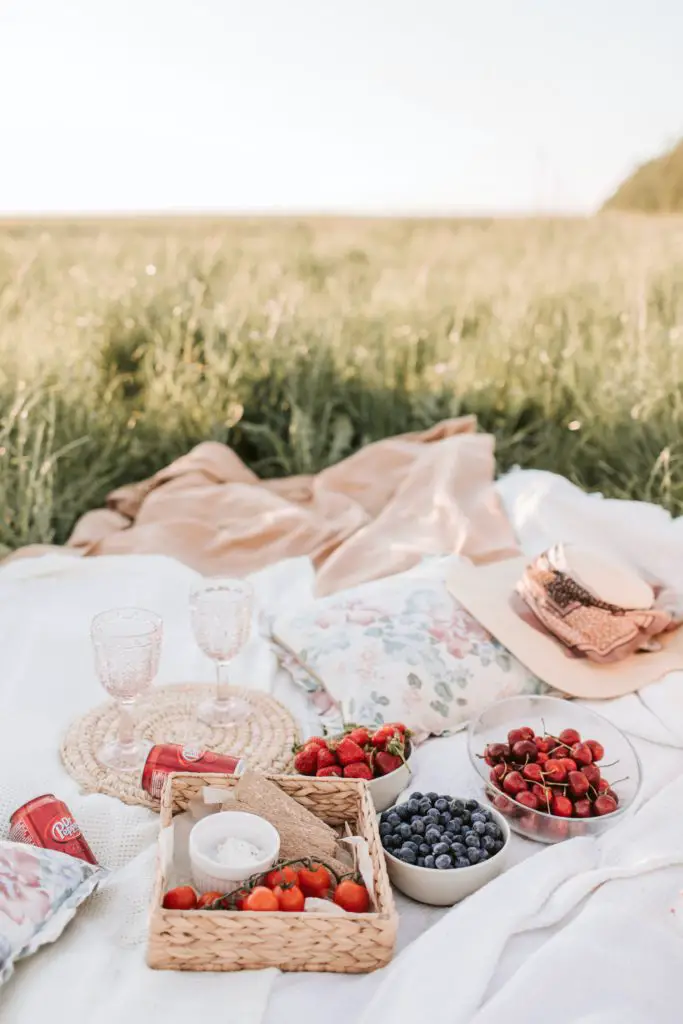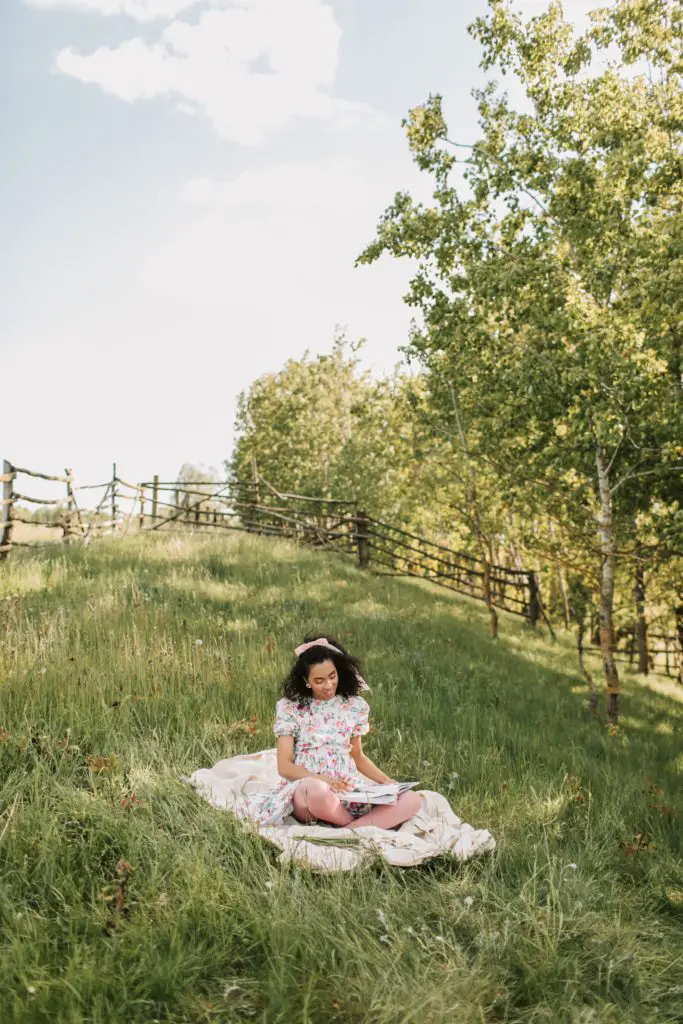 Have a picnic
The first thing that comes to mind when I think of cottagecore (after spending time in a cottage of course) is picnicking.
First you'll need to find the perfect spot for a picnic, which can be a fun activity on its own. Depending on where you live, your idea of the perfect picnic spot could be vastly different from mine. If you live in a city, consider going to a local park, forest or gardens. Or you might decide it's worth it to drive out of the city to find that perfect spot. I personally love having picnics at provincial parks here in BC (Canada), where you can drive in any direction and end up at a lake or a mountain!
Keep in mind the most memorable picnics can sometimes be the ones that are unplanned and spontaneous. Keep an eye open for beautiful spots while you're out and about, and be open to exploring new places. You might find a hidden gem right in your own backyard that you never knew existed!
Once you've found where you would like to have your picnic, it's time to buy or make some cute picnic foods. Pinterest is a goldmine of cute picnic ideas, here are my favorite boards with everything from finger sandwiches to mason jar cheesecakes. Remember to bring foods that are served cold and don't make to much of a mess. But bring wet-ones/napkins just in case!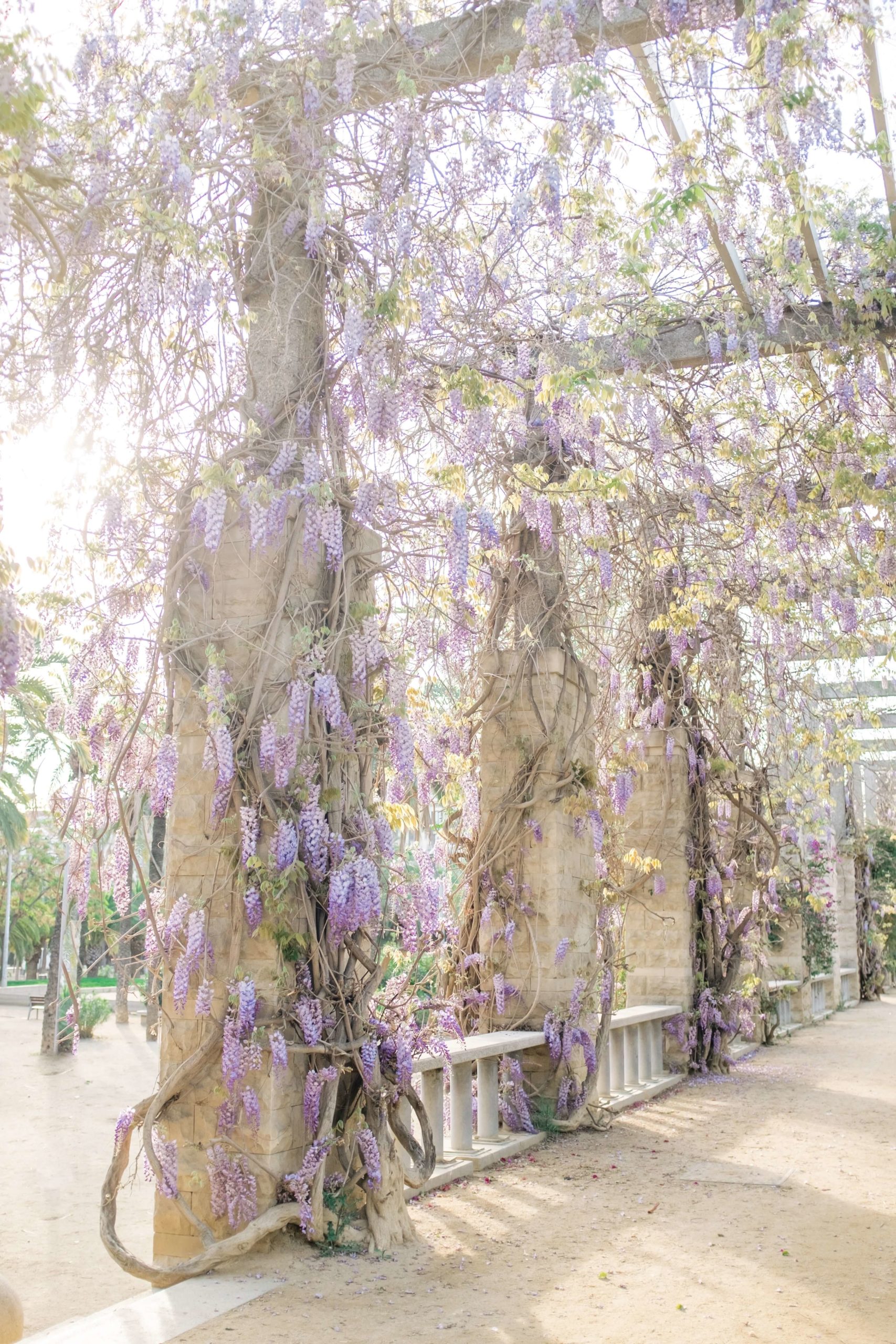 Start a garden
Plants and flowers are essential to the cottagecore aesthetic. Even if you don't have the space to start a garden or green house, make a garden space inside your home with potted plants and climbing vines.
The cottage garden lends itself to images of English countrysides and farmhouse landscaping.  The concept wouldn't be valid without cottagecore flowers, which are essential to the plan. The informal design is perfect for setting off small homes, but can also be used in a grander estate. Cottagecore design relies upon different colors and textures that work together creating a moving, living space. 

Read more at Gardening Know How: How To Grow A Cottagecore Flower Garden https://www.gardeningknowhow.com/special/spaces/cottagecore-garden.htm

By: Bonnie L. Grant, Certified Urban Agriculturist
A few flowers that help encapsulate the aesthetic are Bleeding Hearts, Wisteria, Sweat Pea Vines, Roses, Lavender, and Hollyhocks. Shop at your local plant nursery for supplies and plants for transplanting.
The ideal cottagecore garden is something straight out of Victorian England and not something we all have access to of the funds/space to create. But it's entirely possible to create a space inside your home, or on an apartment balcony for a cottagecore garden. You can save space and potentially add privacy to your balcony by hanging plants and vines. A plant stand is also a great way to add more plants while saving space. Happy gardening!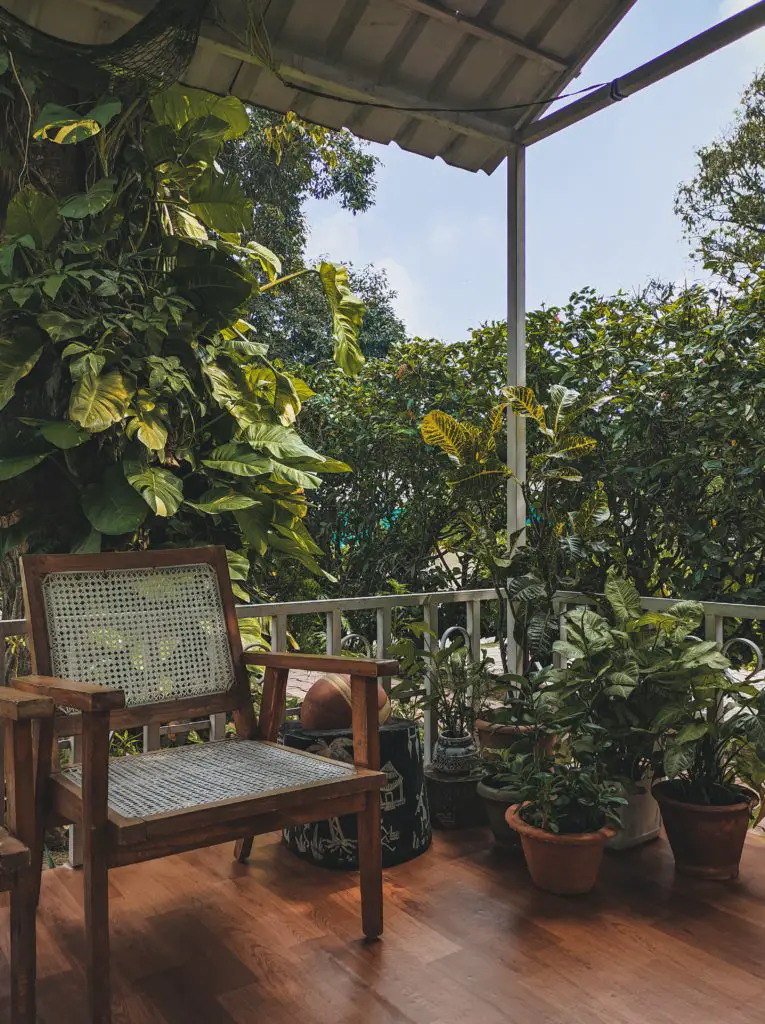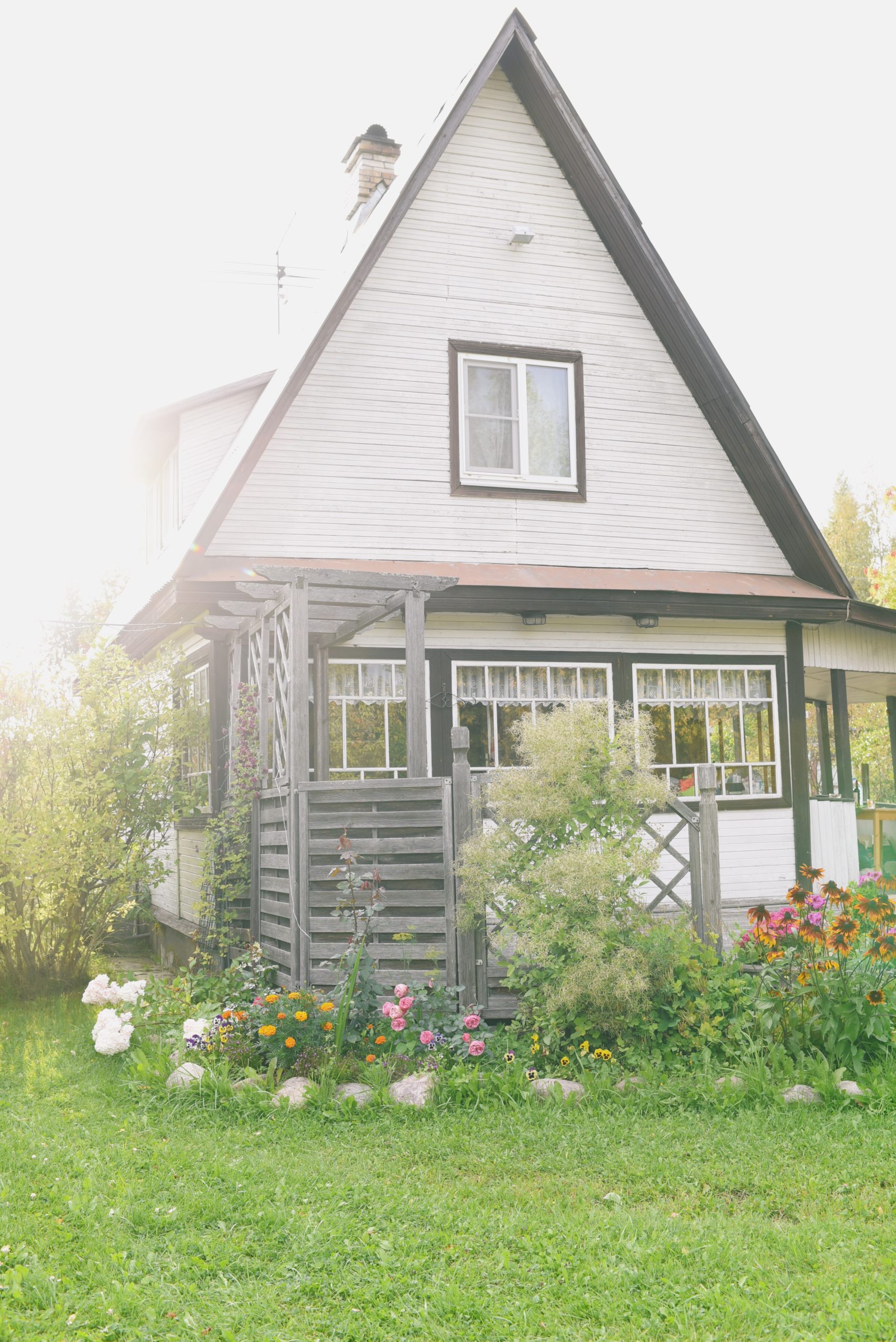 Bake fresh bread
If you've never made fresh bread before, don't be intimidated, it's a lot simpler than you think. It takes only 6 ingredients, and the only piece of equipment you really need is an oven. Of course having a stand mixer to kneed your dough is helpful, but not necessary at all. Here's a fantastic recipe for no kneed artisanal bread that's perfect for those with minimal experience:
3 Cups of flours (bread four is best but not necessary)
1 Tablespoon of sugar
2 Teaspoons of instant yeast
1 1/2 Teaspoons of salt
1 1/2 Cups of warm water
1 Tablespoon of olive oil
To prepare the dough, take a large bowl and combine flour, sugar, yeast, and salt. Next, add water and oil to the bowl and mix all the ingredients thoroughly until they are well incorporated. You will notice that the dough will have a wet, sticky and shaggy texture, which is perfectly normal.
Lightly spray the top with cooking oil spray, cover with plastic wrap and place a dry kitchen towel on top.
Leave the dough to rise for 2-3 hours. It should double in size by that time. Now place a large (10-inch or 26cm) dutch oven or heavy based pot in the oven with a lid. Preheat oven to 450°F (230°C) 30 minutes before baking.
Sprinkle your work surface and plastic spatula with flour so the dough won't stick to anything. Using the spatula, gently scrape the dough out of the bowl and onto the floured work surface. Next, sprinkle a large pinch of flour over the dough and fold it over on itself using the spatula, repeating this process 5-6 times. This will help to incorporate the flour and ensure the dough has an even consistency. Once you've completed the folds, shape the dough into a rough round shape.
Using oven mitts, remove the hot pot from the oven. Then roll the dough ball gently onto a piece of parchment paper to use like a stretcher, transferring it into the pot it to be baked in. We want the dough to stay in it's round shape.
Cover with lid and bake for 30 minutes, then remove lid and bake for an additional 12-15 minutes, until loaf is a nice golden brown color. Gently remove the load to cool for 10 minutes before it's ready to eat!
Go foraging/berry picking
Picking berries is such a nostalgic activity that can make you feel like you're living in a storybook. Wandering through the forest, exploring in the peaceful and enchanting atmosphere, you may feel like you've been transported into a magical world of fairytales and folklore. But before you grab your basket and run off into the wood, make sure you know which berries are safe to eat that grown locally in your area.
One way to be sure you're picking the right berries is to go berry picking at a local farm. Lots of farms offer U-pick fields, where you can buy a container and head into the berry fields to fill your containers with berries of your choice.
Berry picking is great for spring and even summer, but what if summer is almost over? If you're reading this and were hoping to find an activity or two that's not spring specific, consider going apple picking! Apples are in season from late July all the way to November. They can be found in local apple orchards, but are just as likely to be found in the town or city right where you live. Just be sure you have your neighbor's permission before you go into their backyard to pick some apples.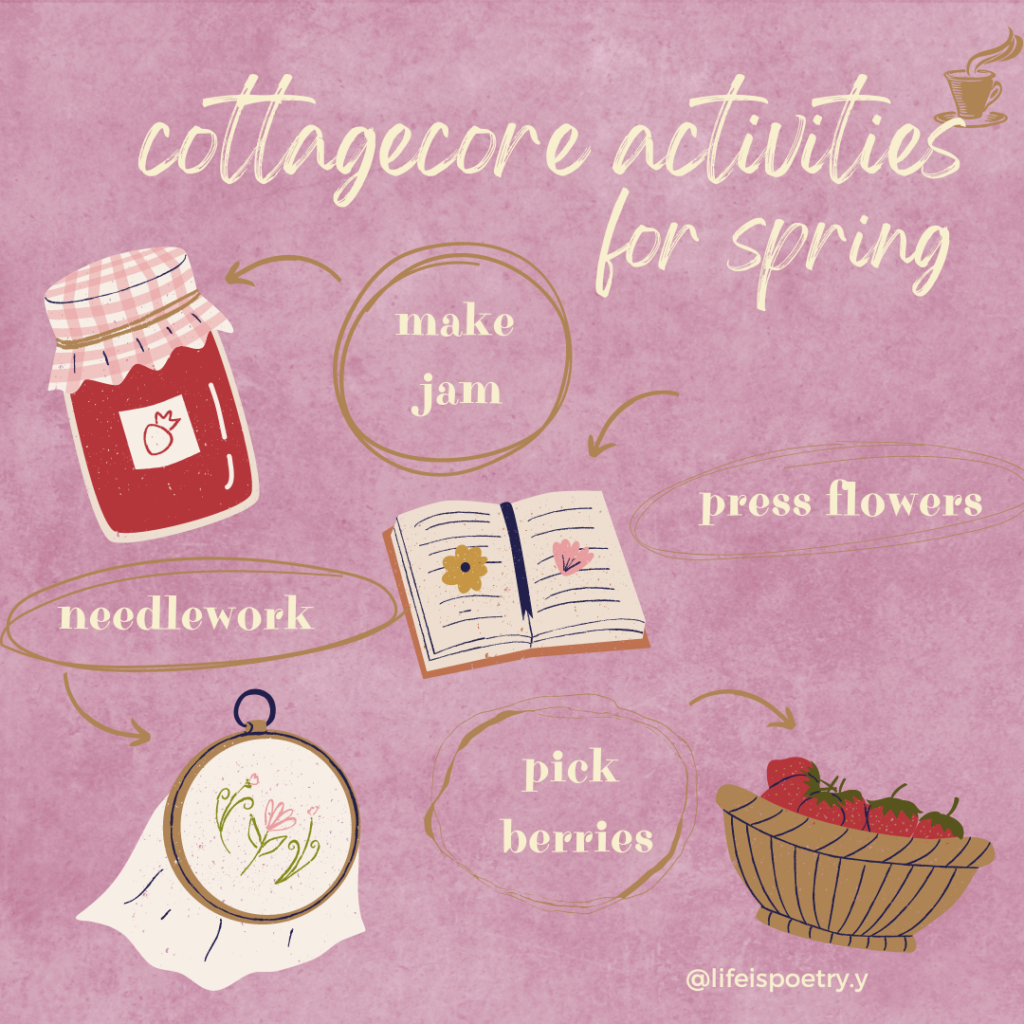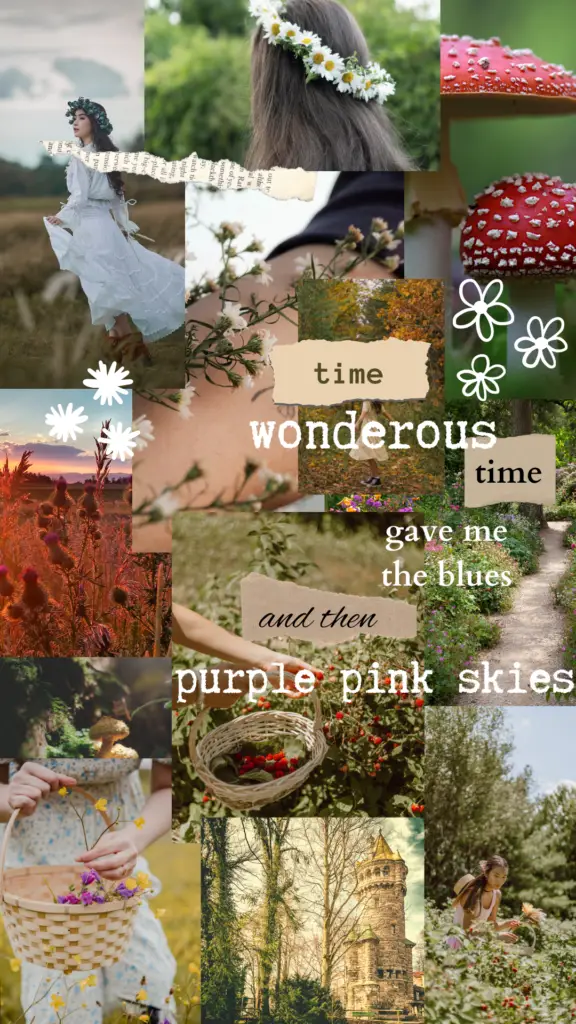 What are your favourite cottagecore things to do during spring? Leave me a comment to let me know! And thank you for reading.